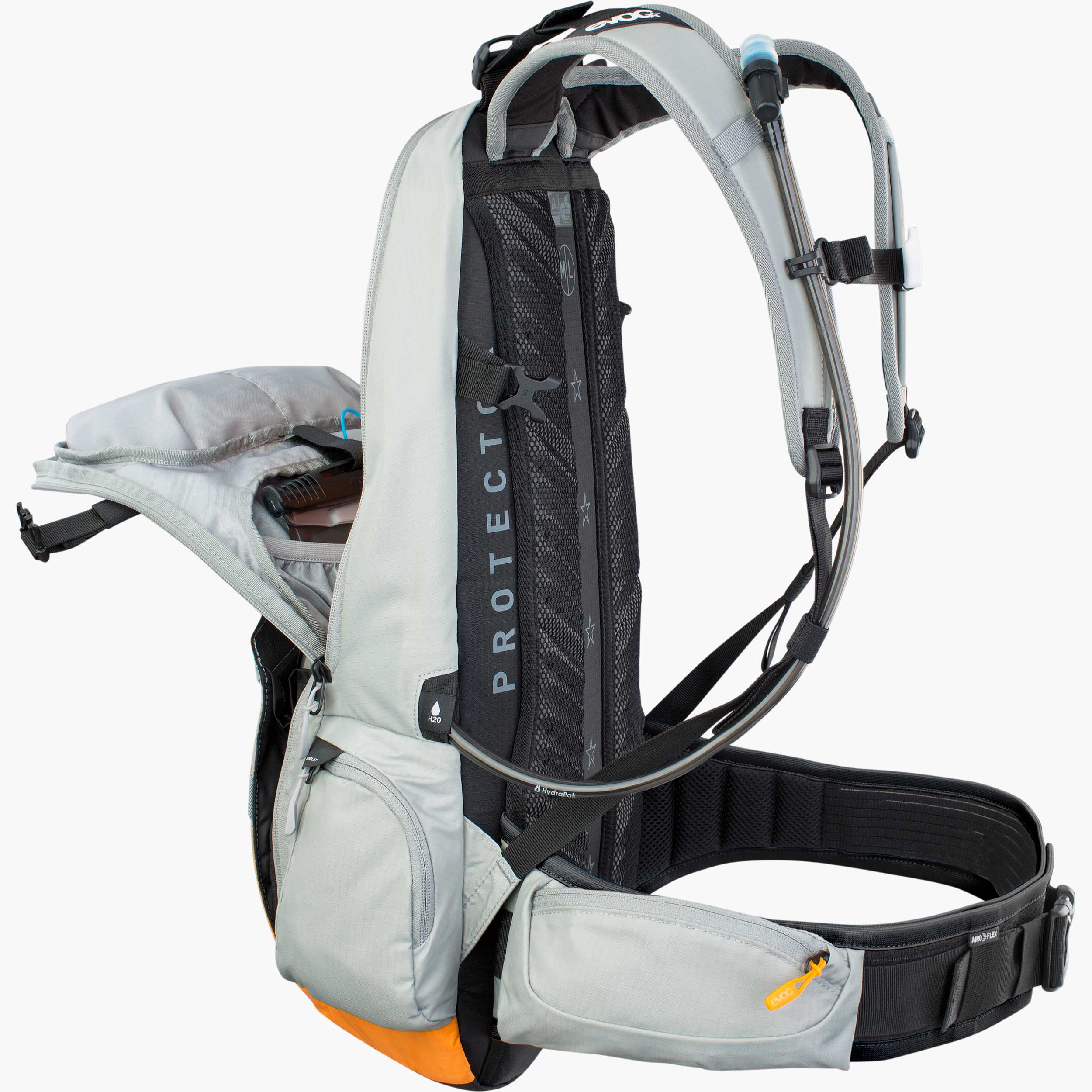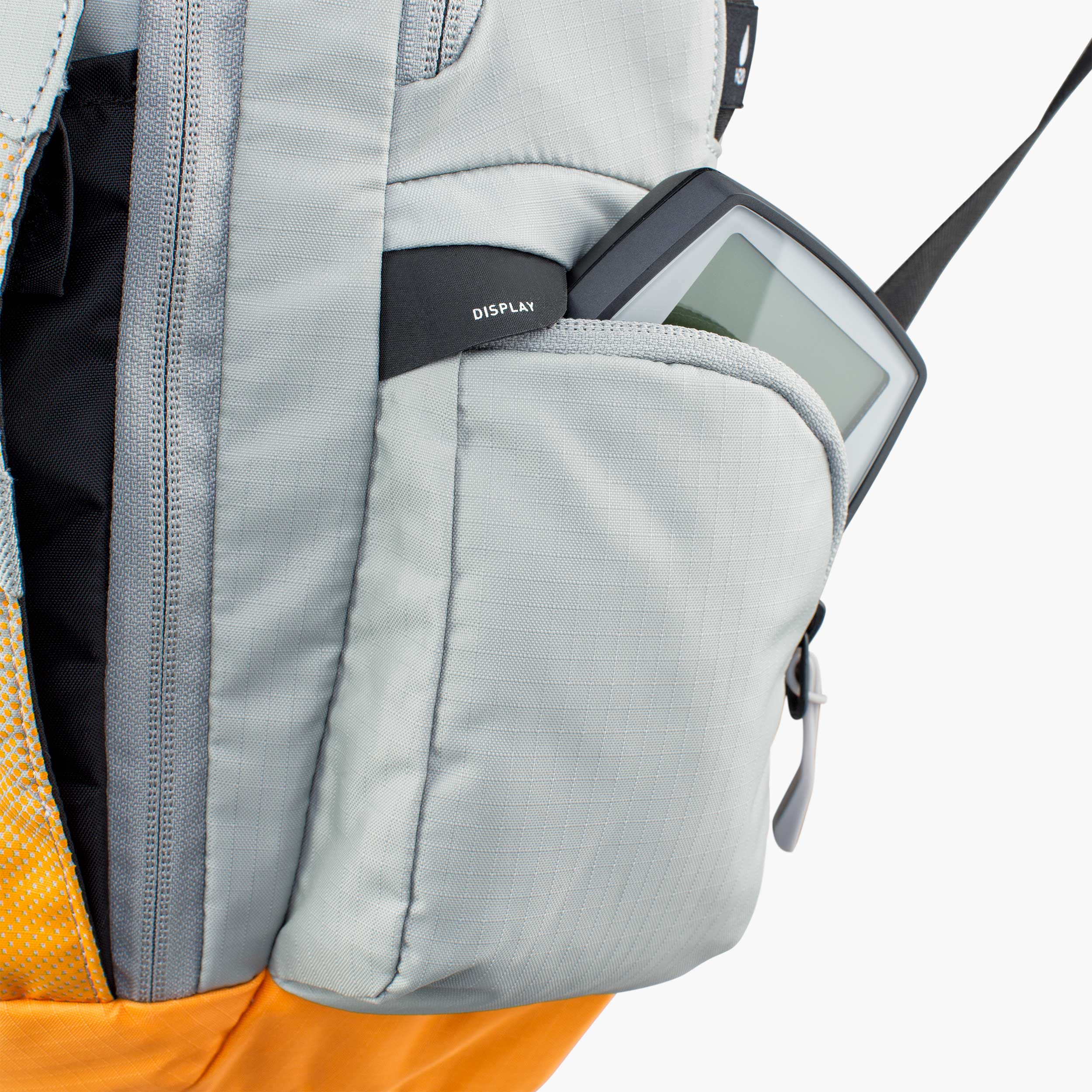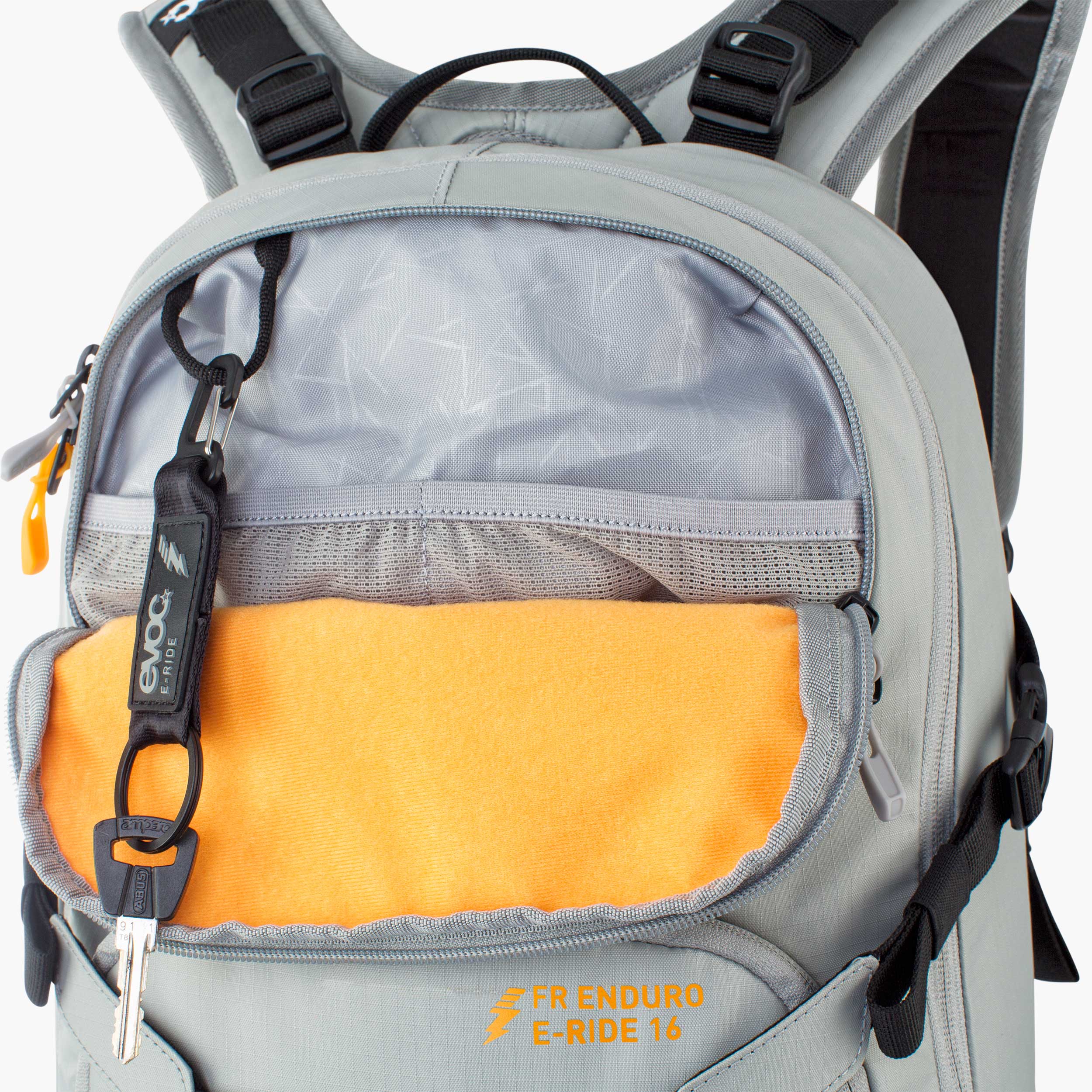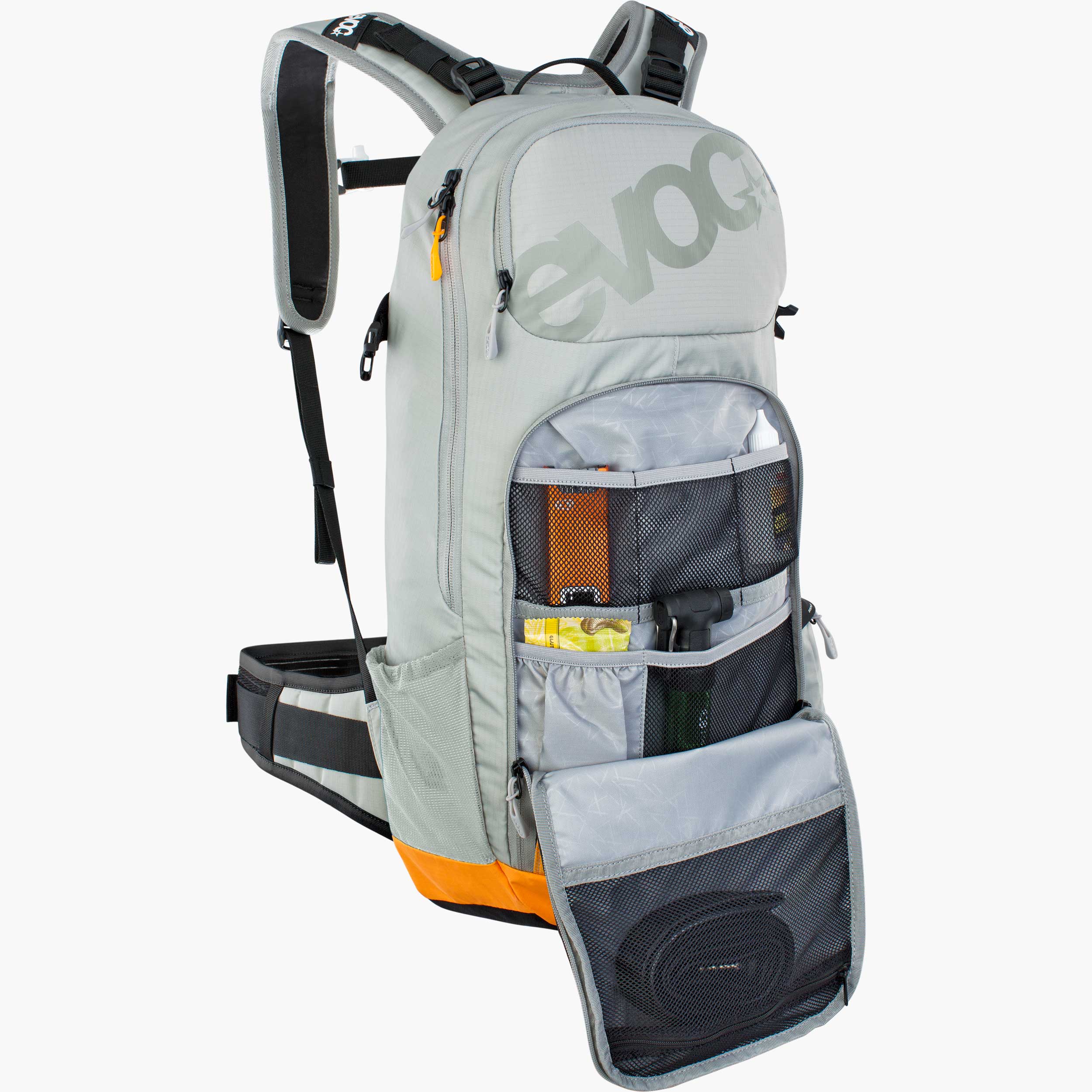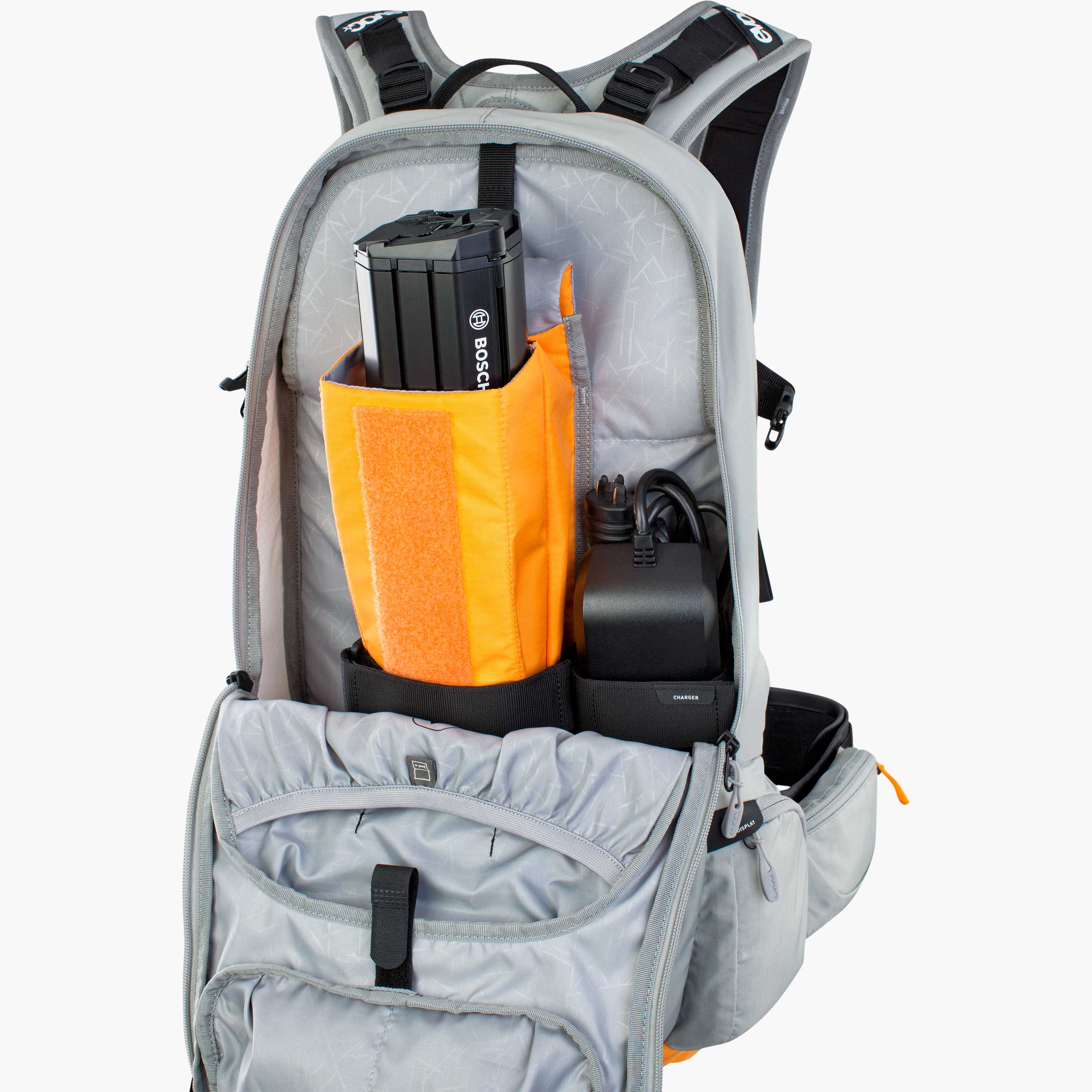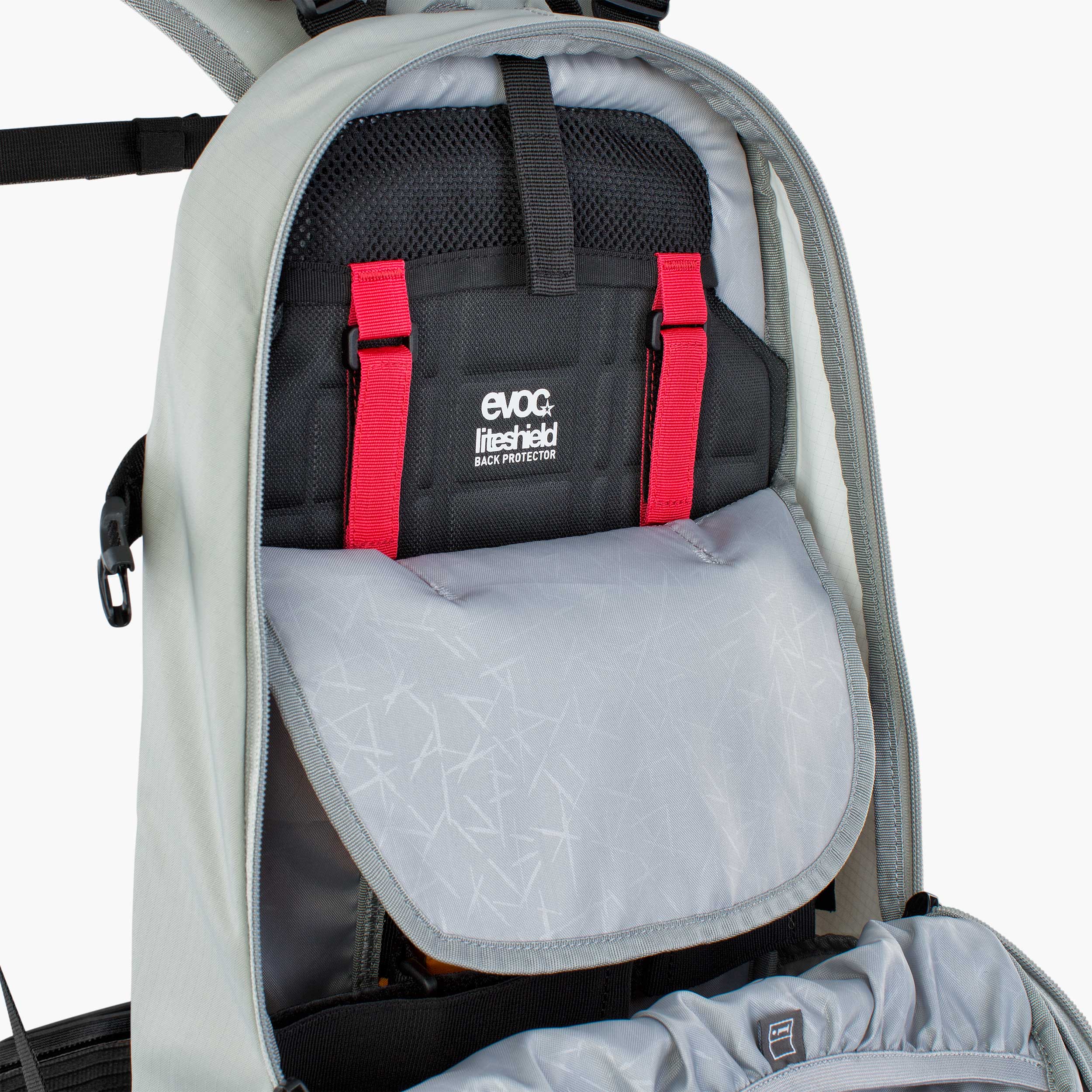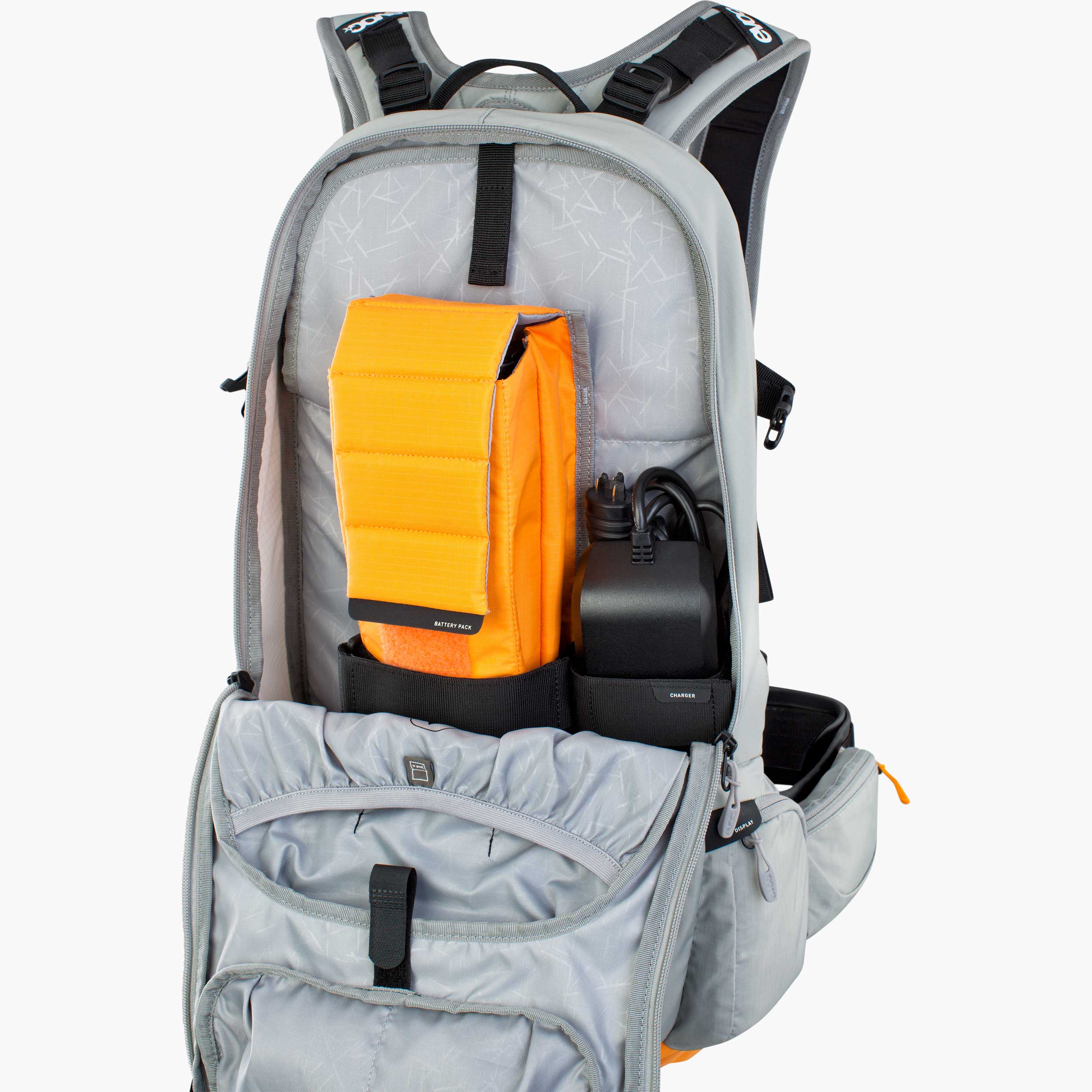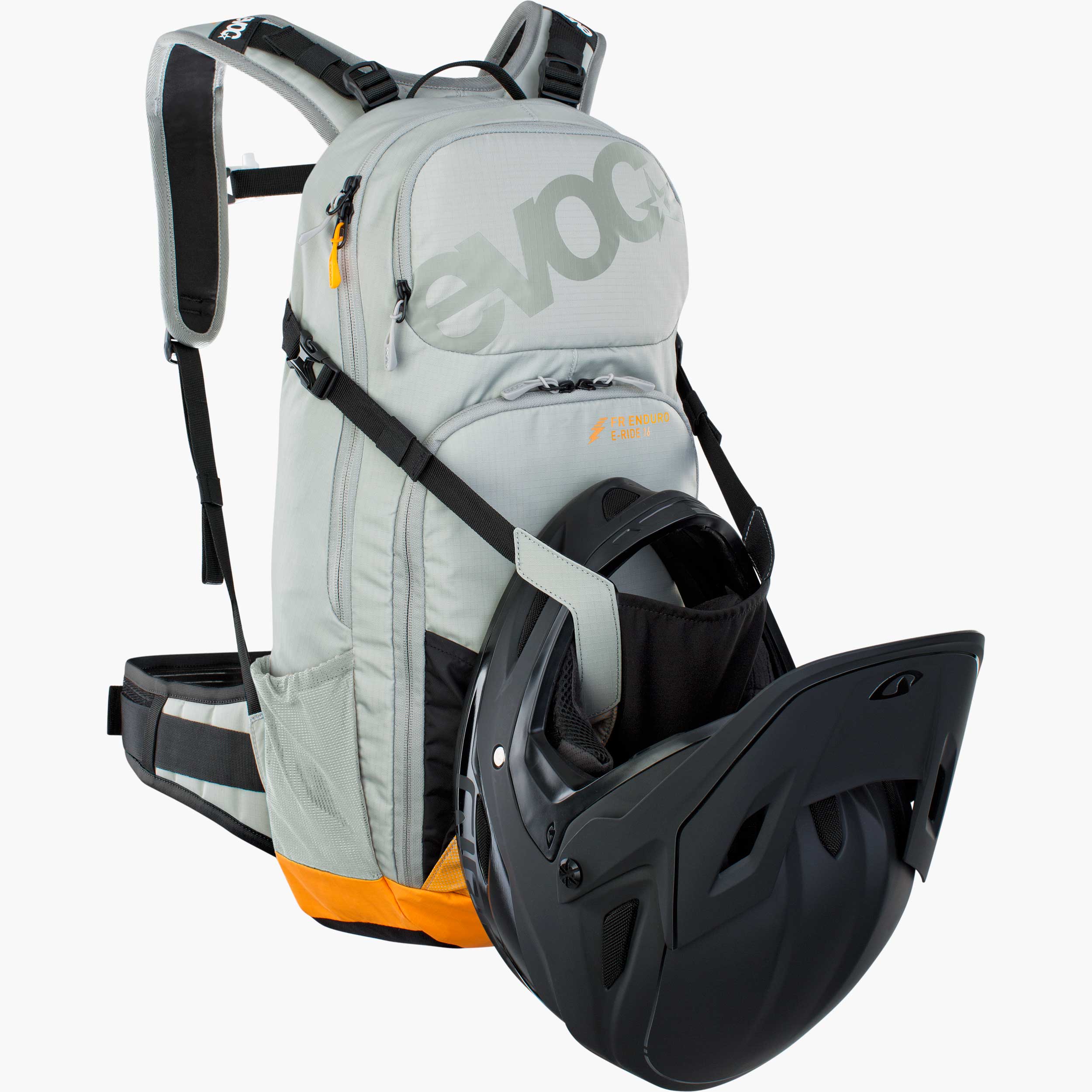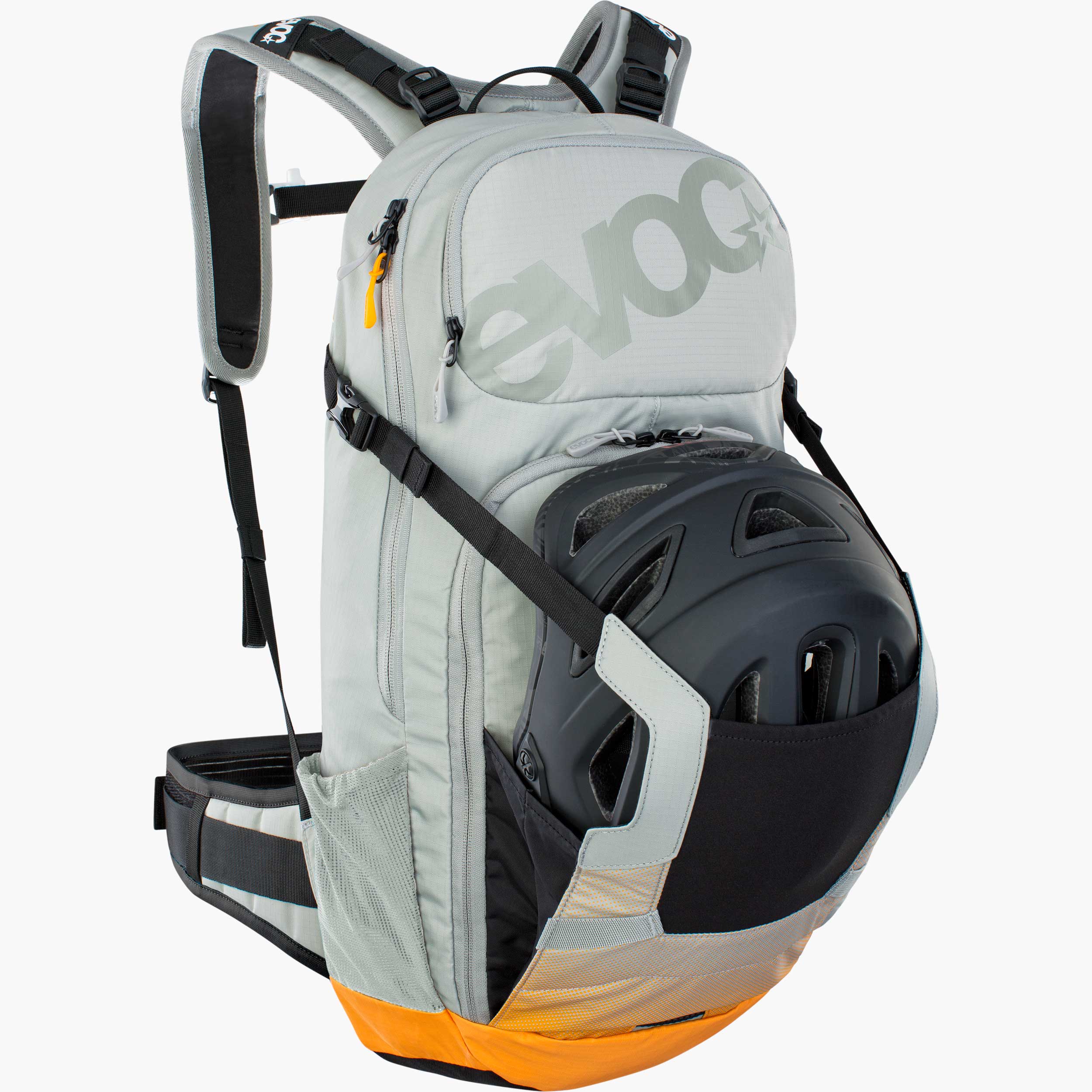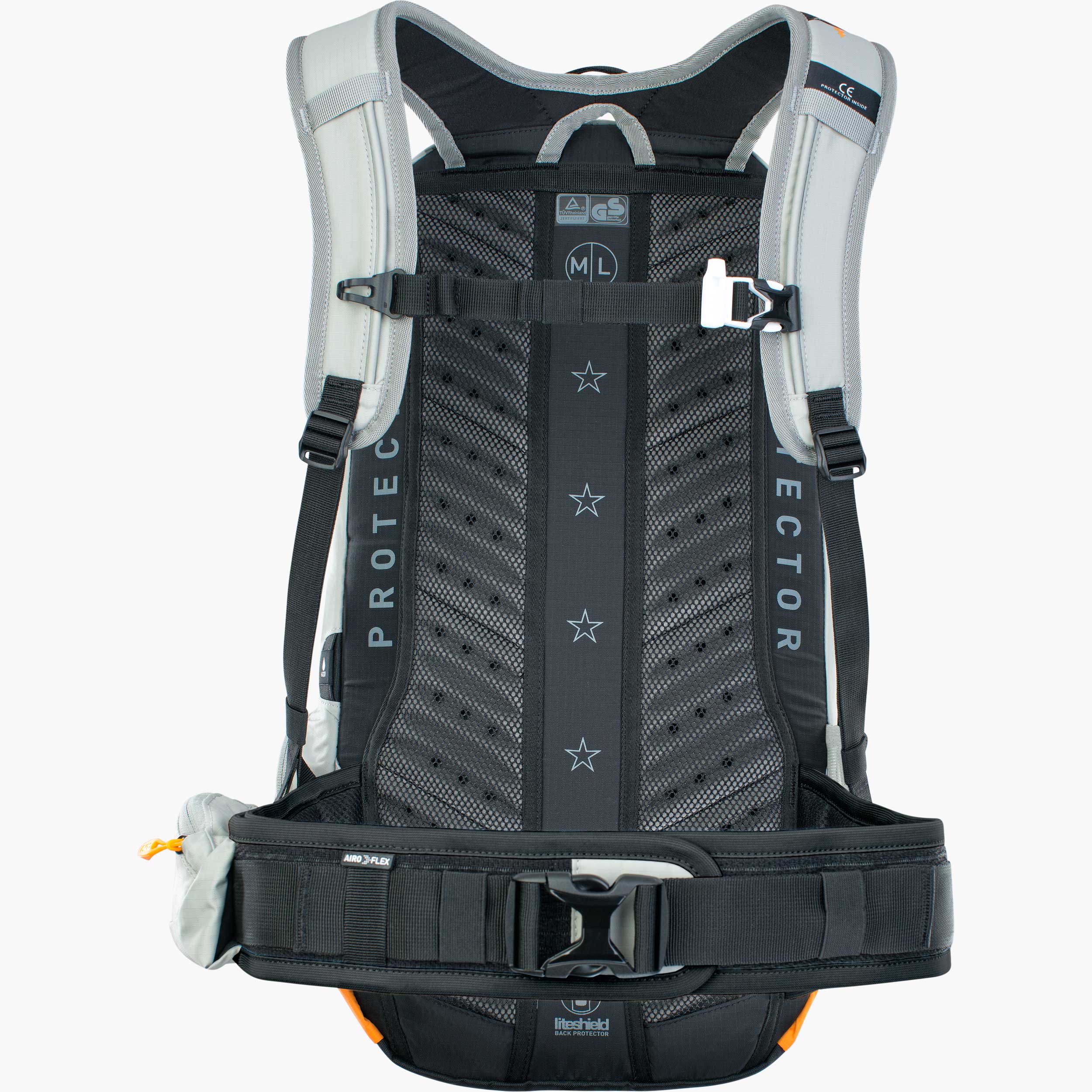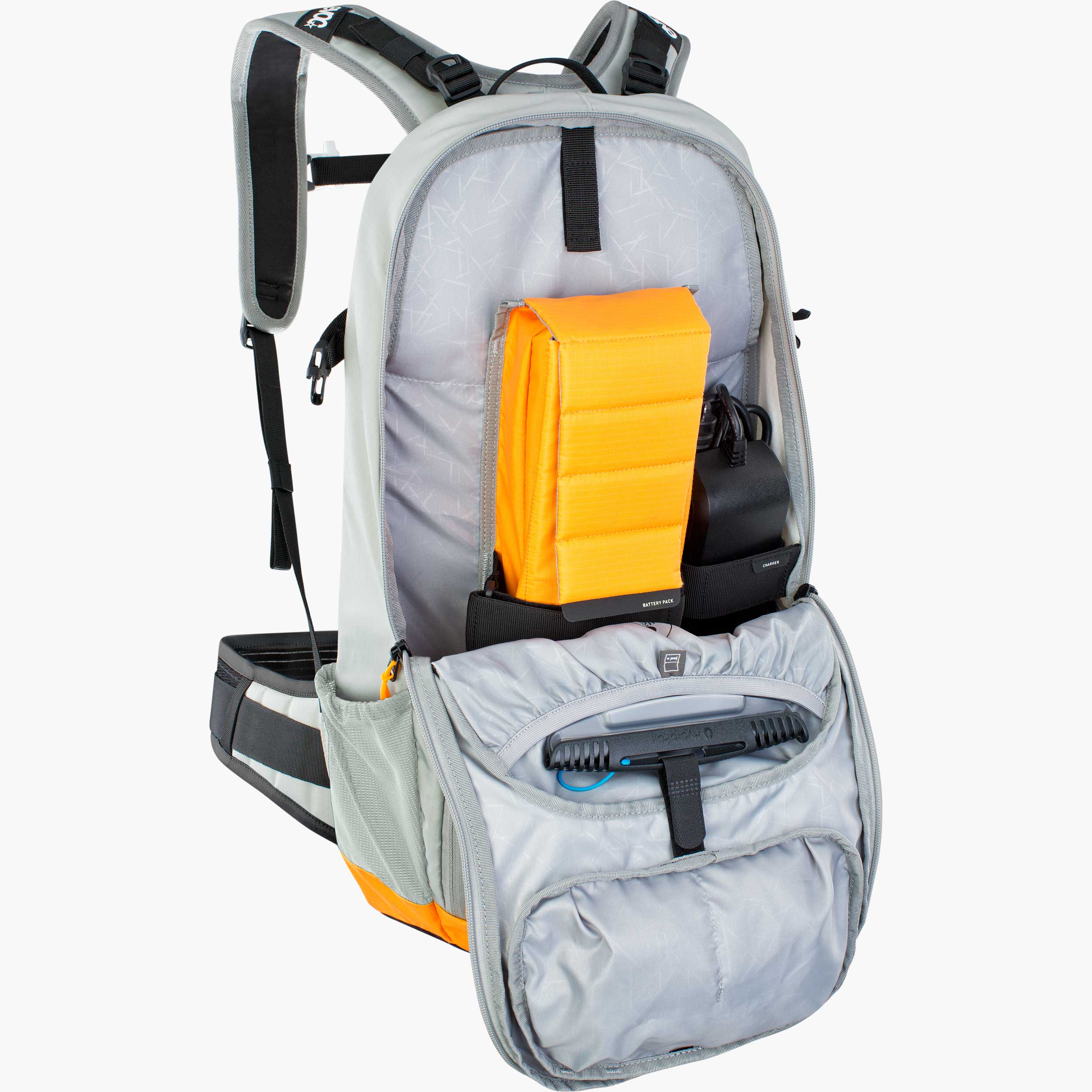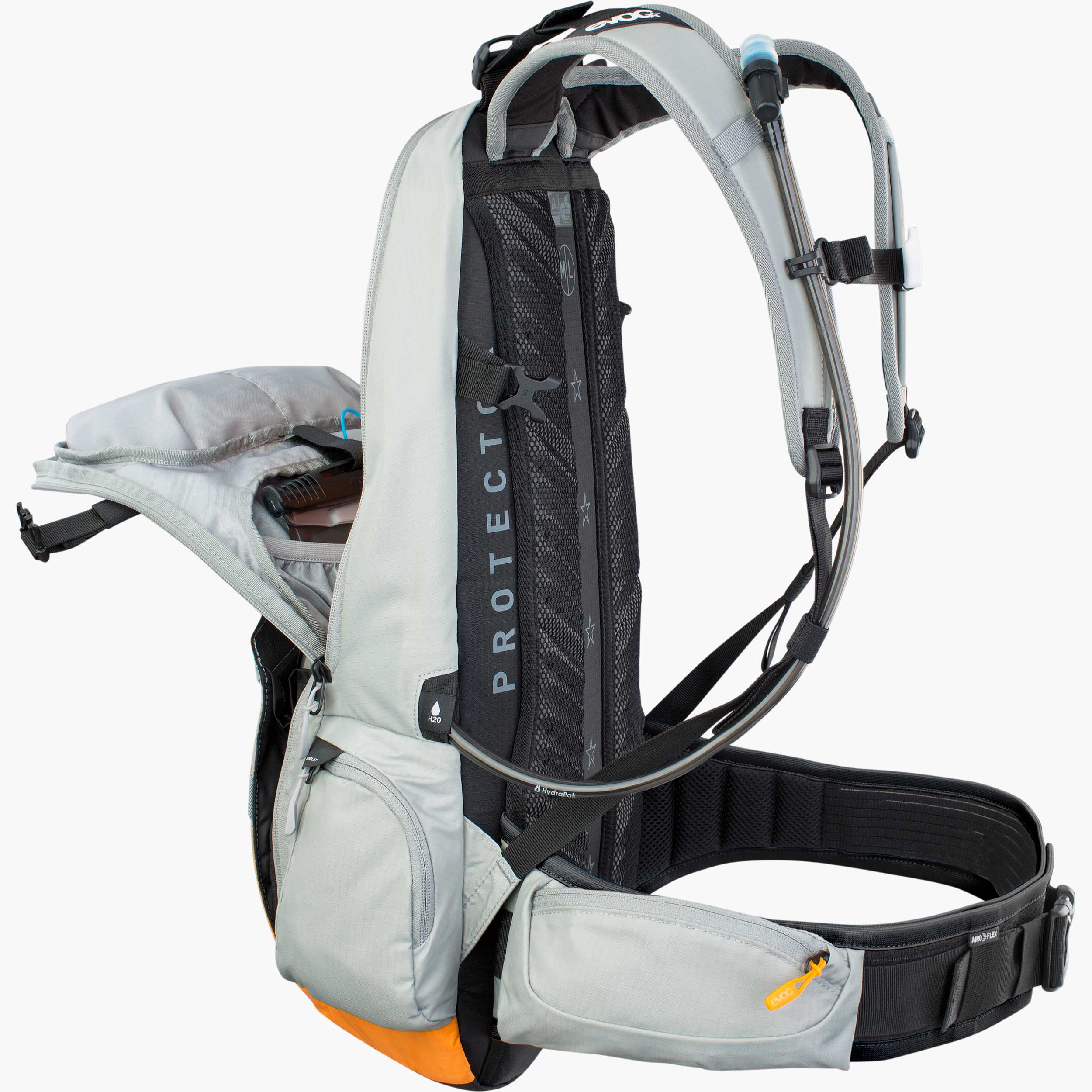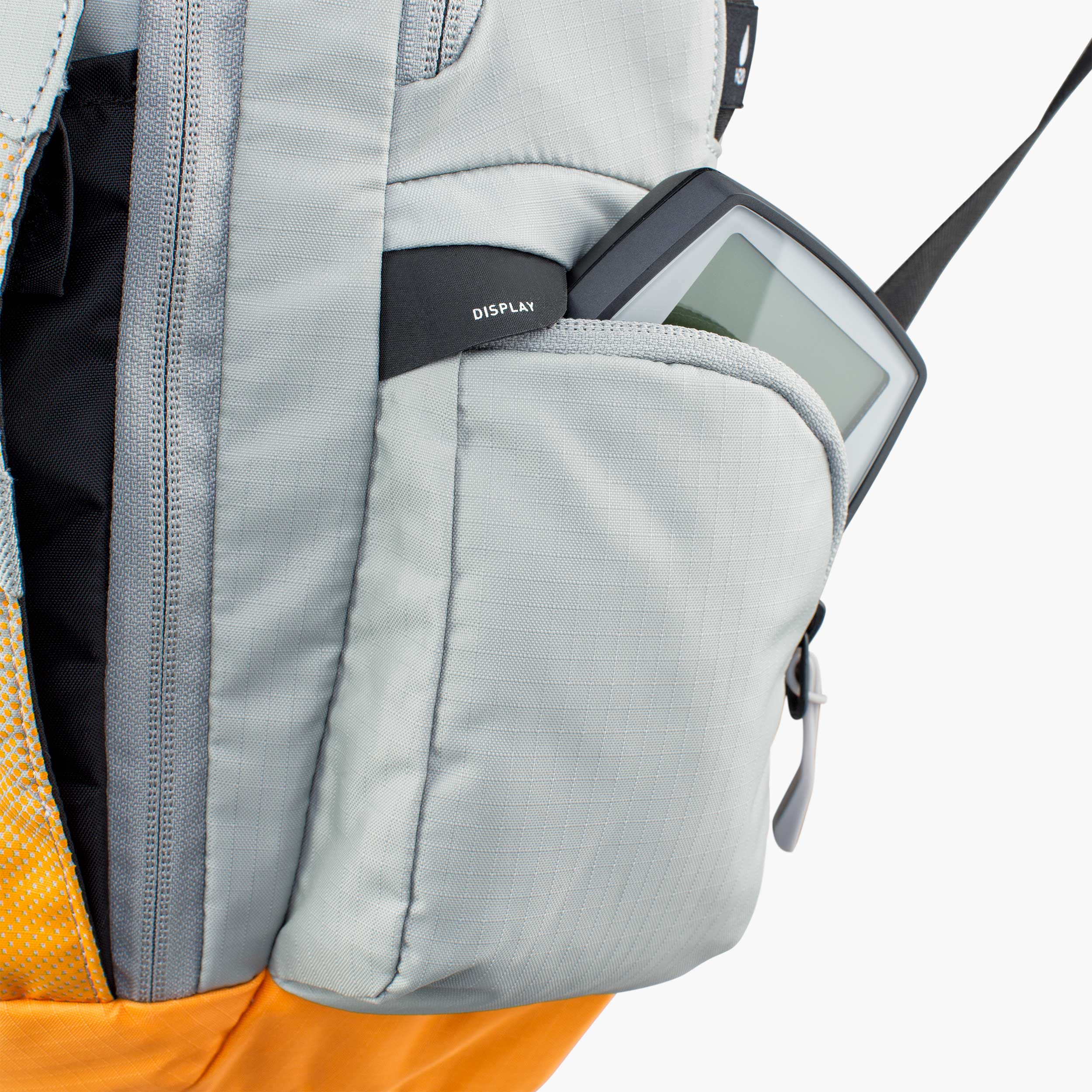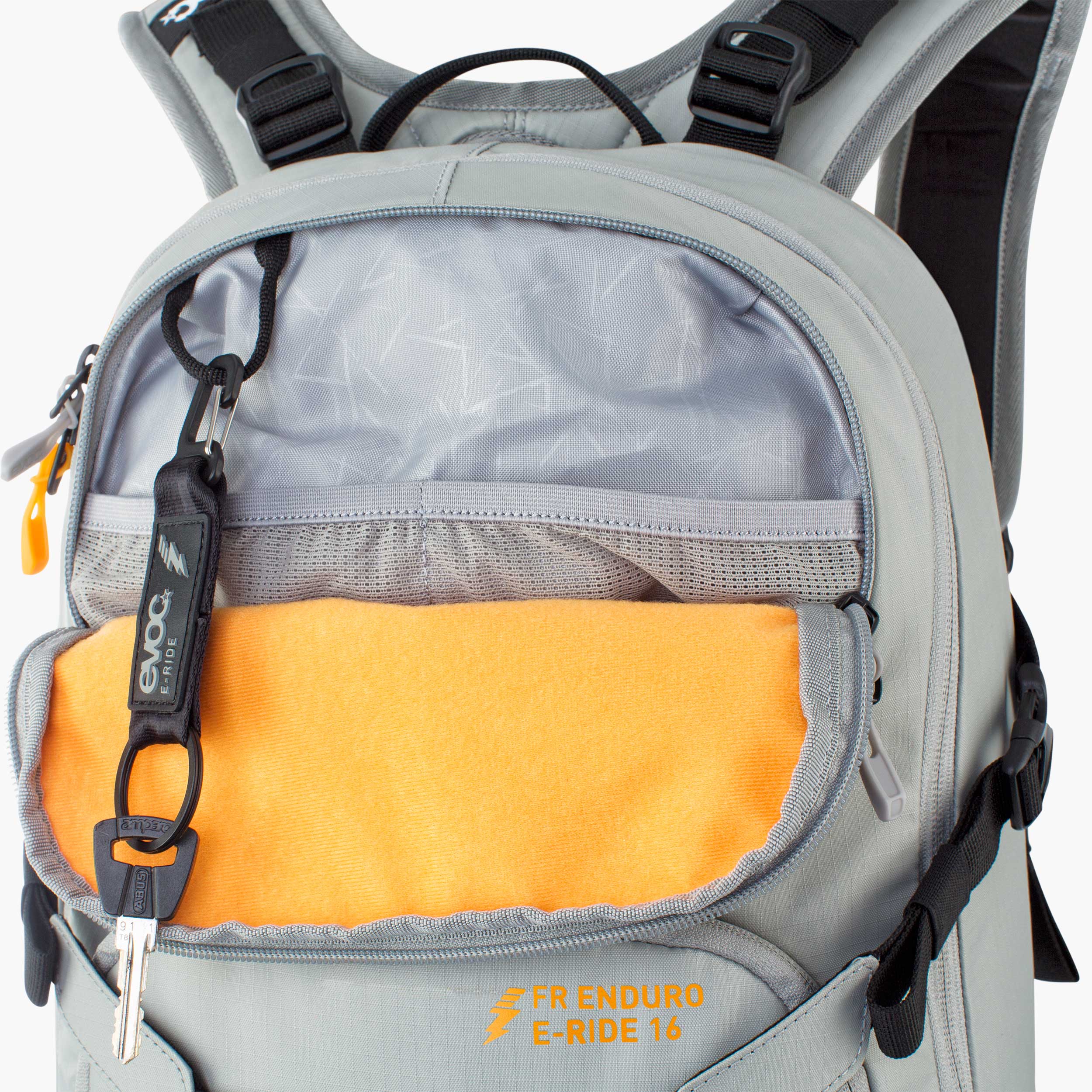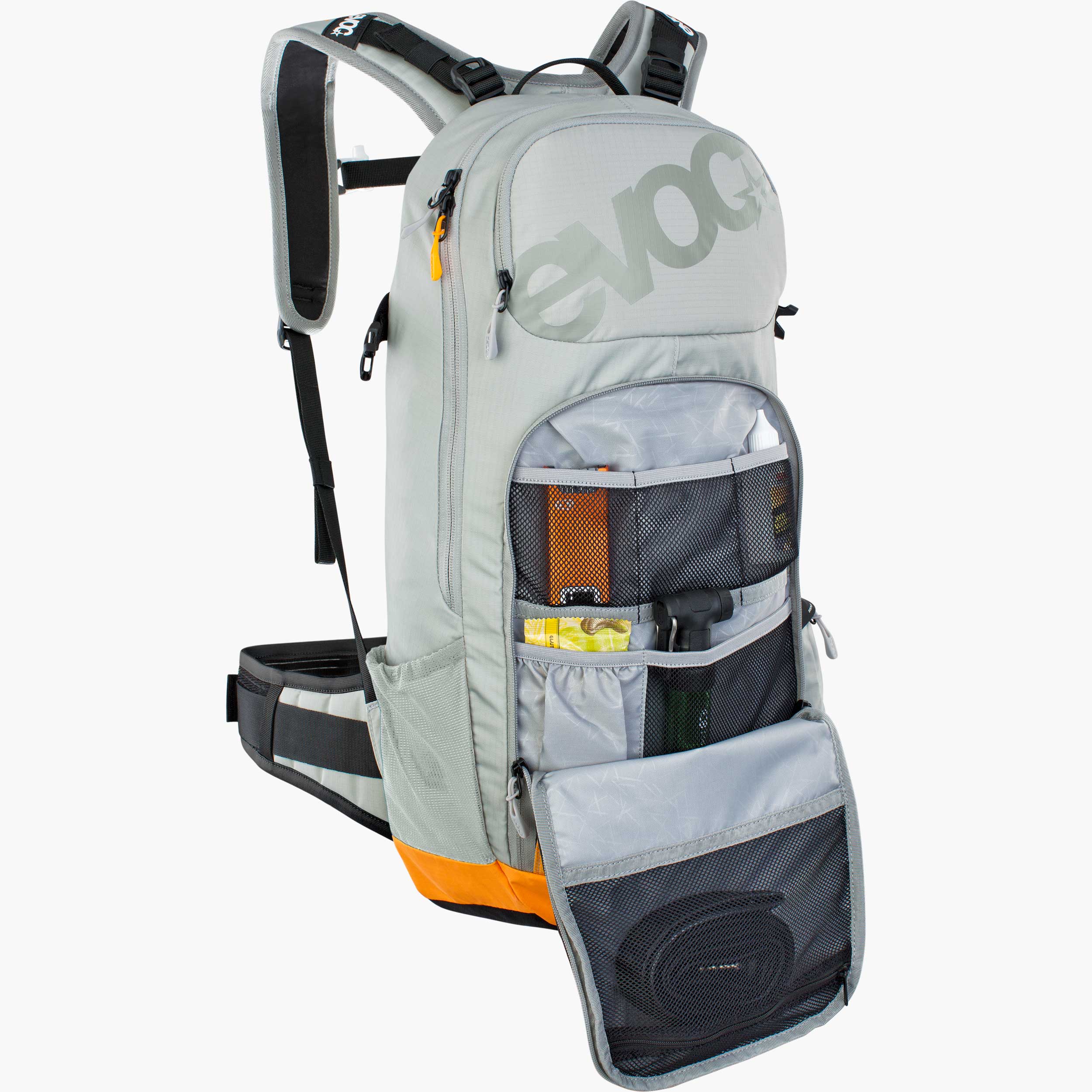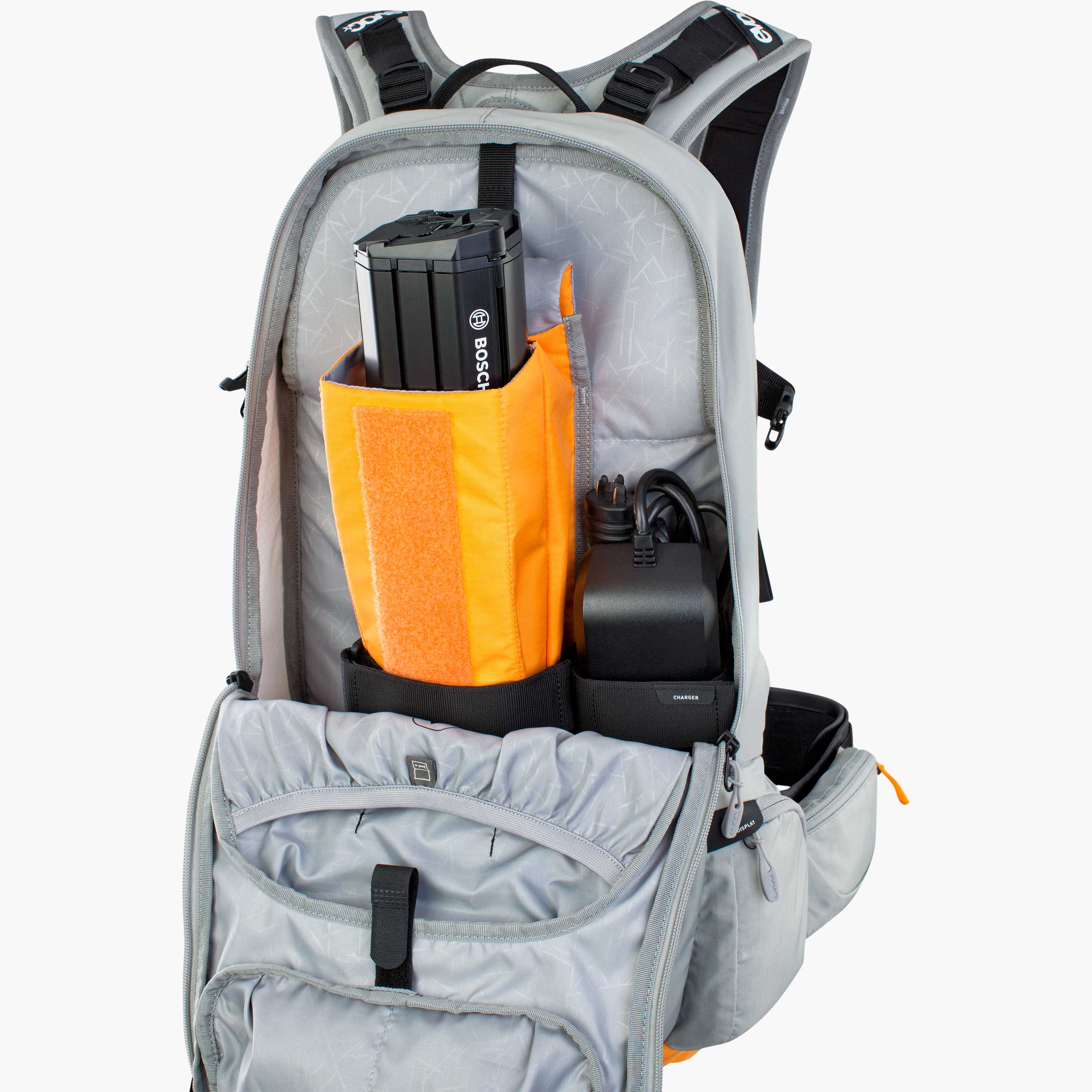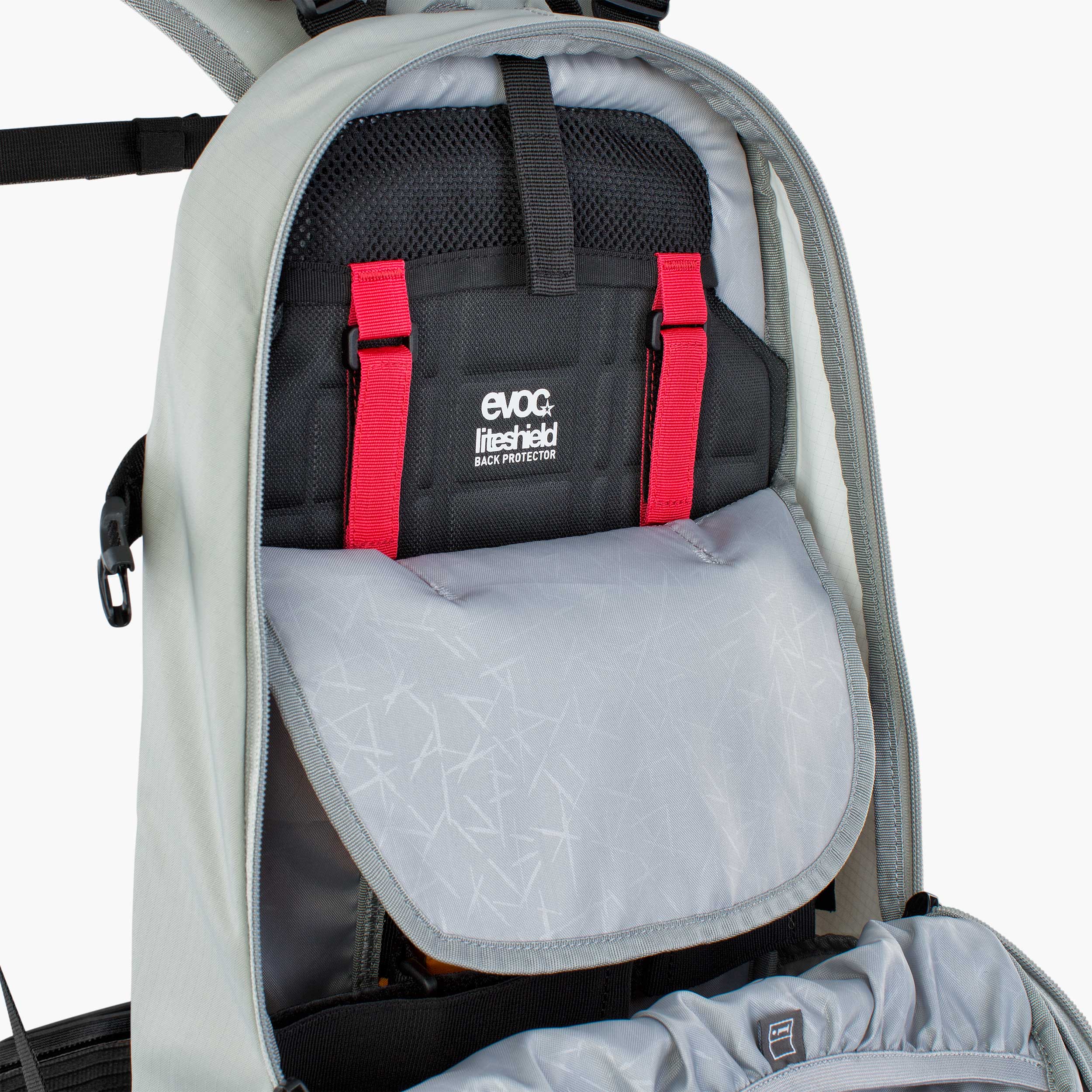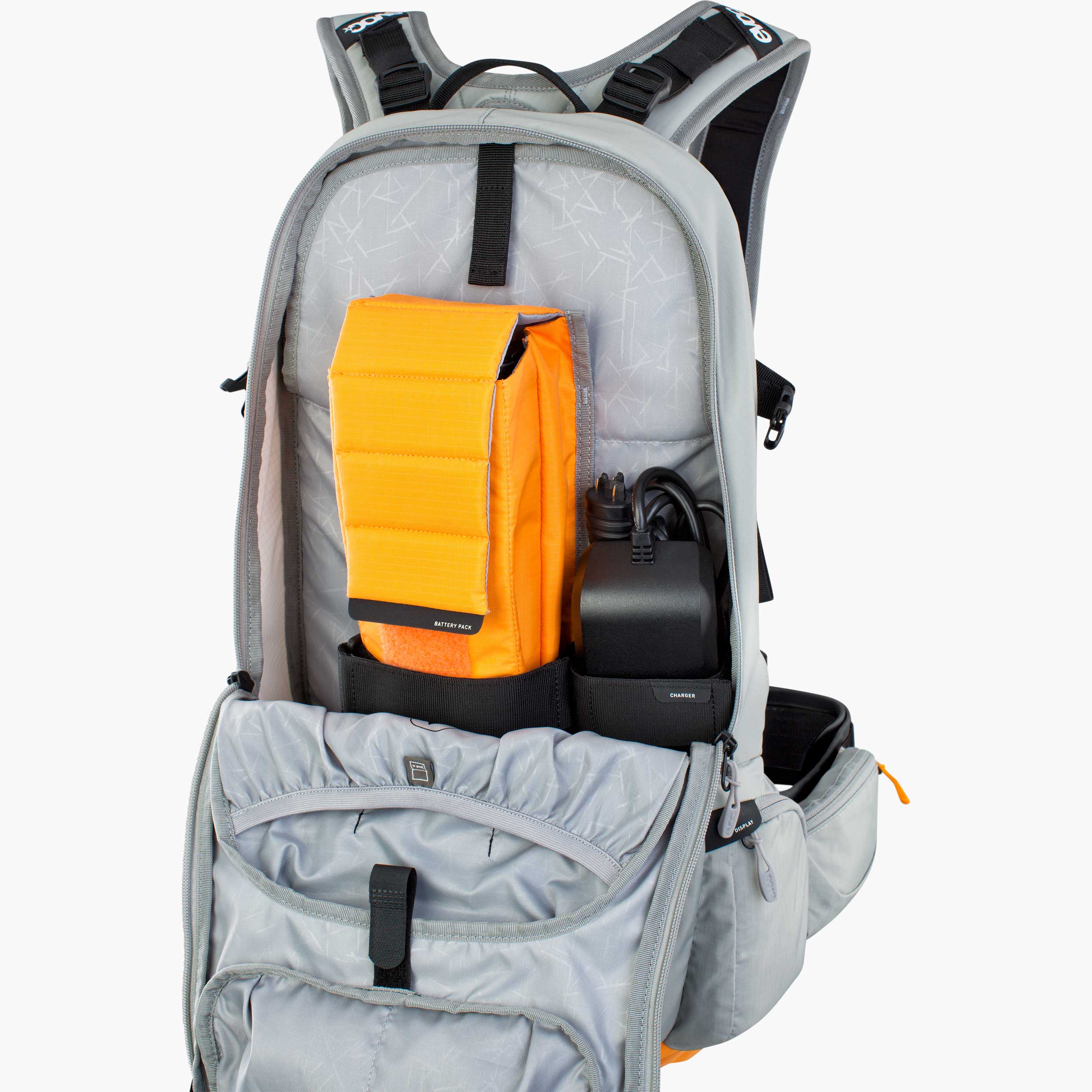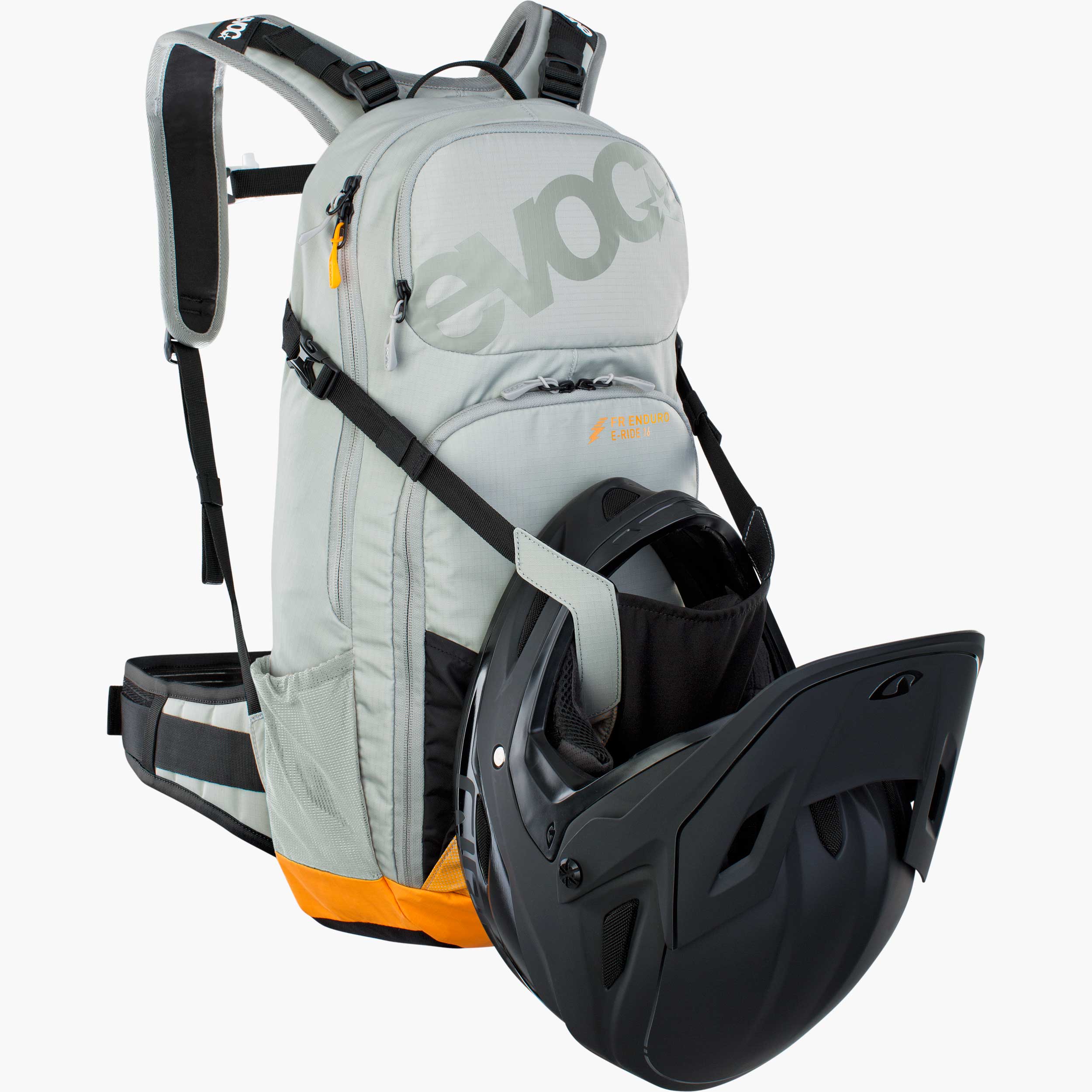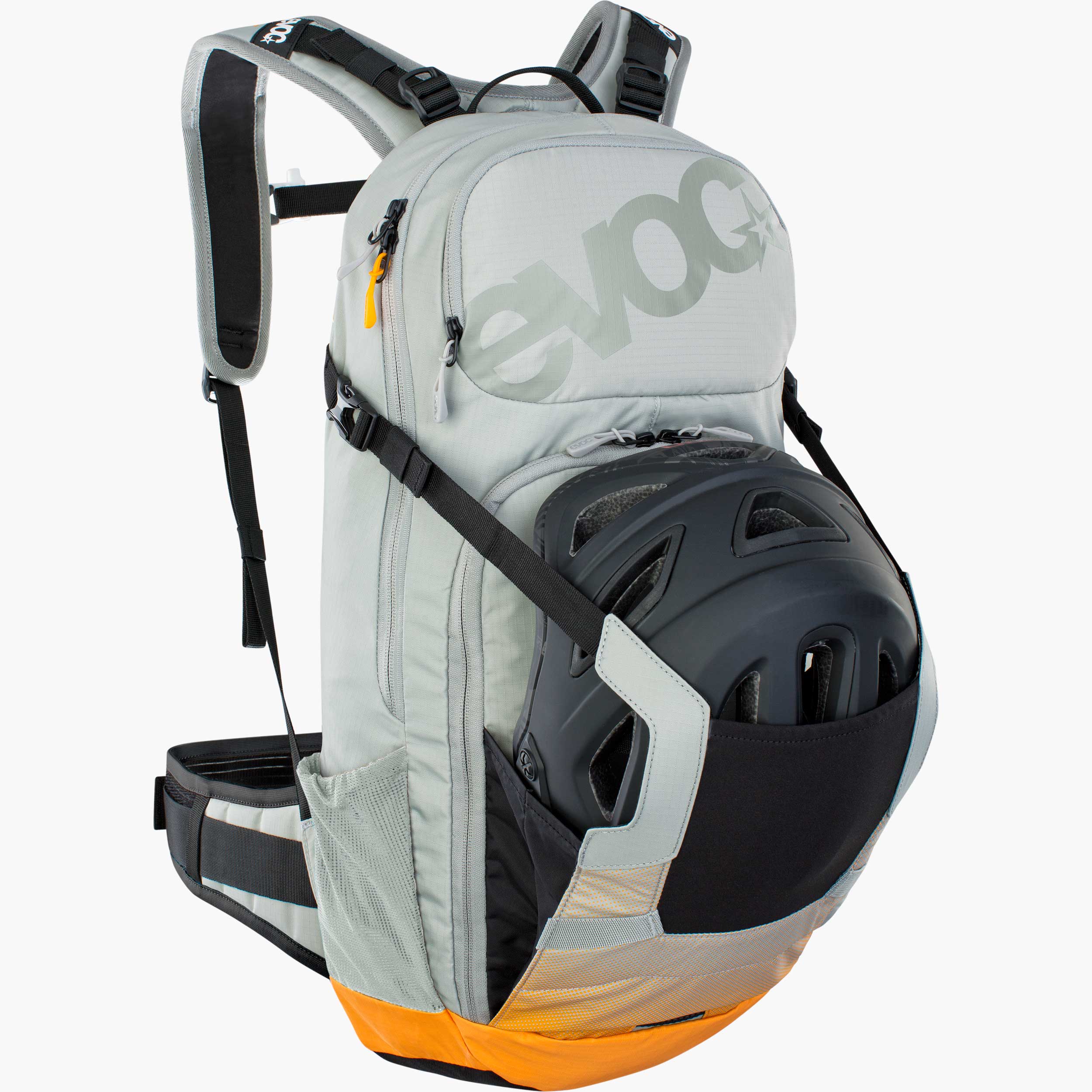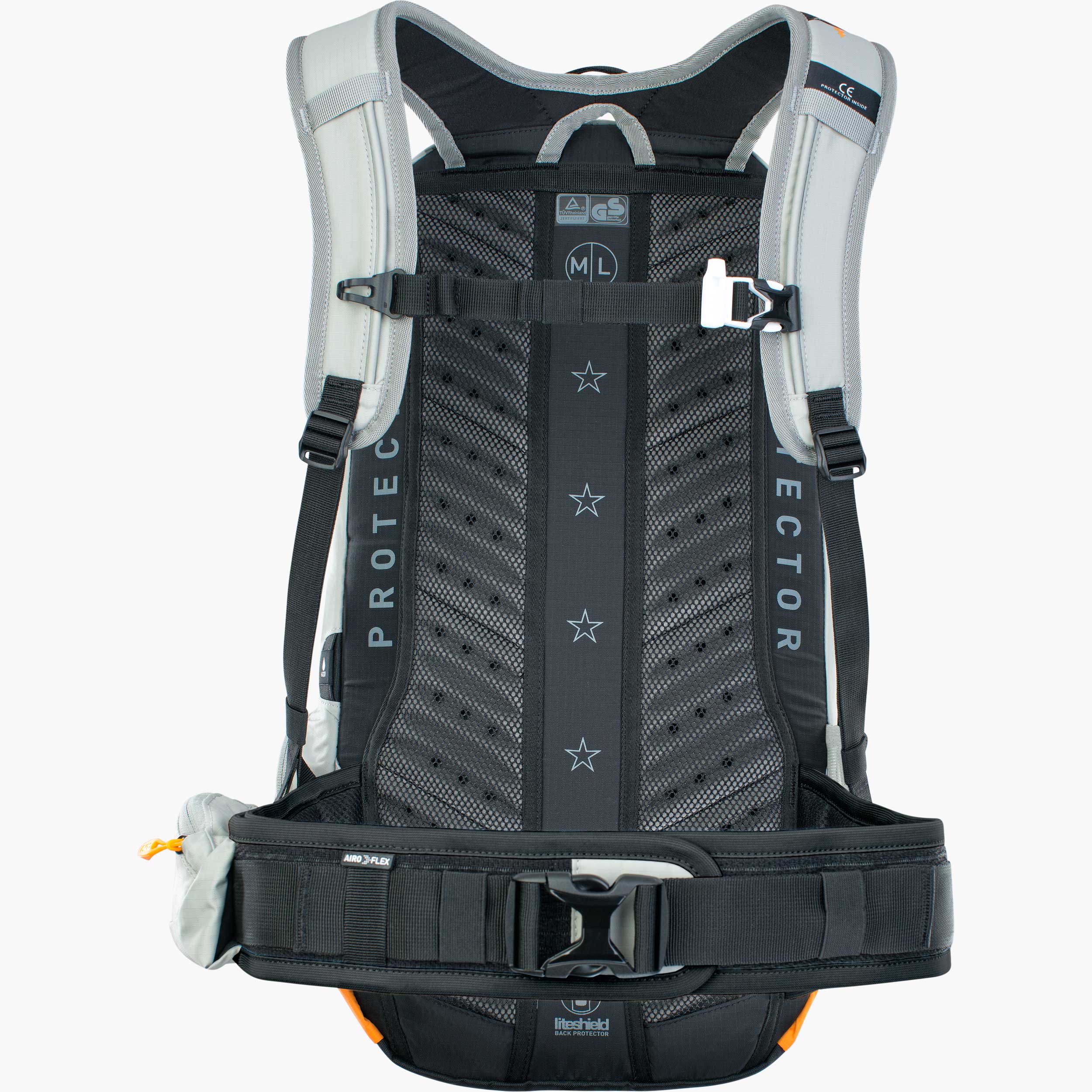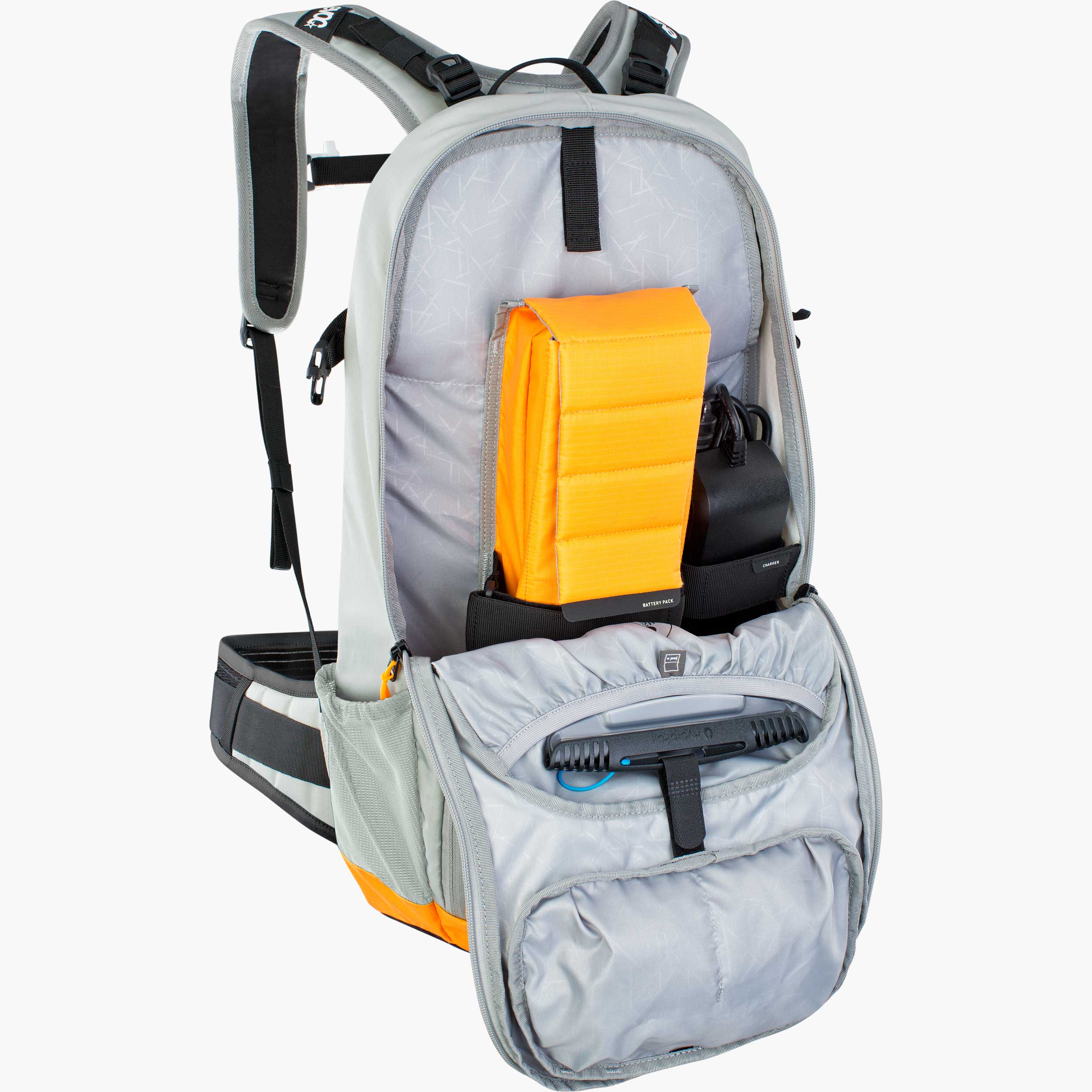 | | |
| --- | --- |
| Weight: | 1320 g |
| Measures: | 11 x 27 x 56 cm |
| Art. No. | 100121132-M/L |
| Colour: | stone - bright orange |
| Size: | M/L |
| Volume: | 16 l |
FR ENDURO E-RIDE 16
Full-on security on extensive E-Bike day rides: The protector backpack ensures sufficient power supply and ample space so you're prepared for just about anything on remote trails.
LITESHIELD BACK PROTECTOR offers 95% shock absorption
Separate, centred, well PADDED BATTERY COMPARTMENT with ultra-safe fixation system
CHARGER STRAP FIXATION SYSTEM
CONTROL DISPLAY COMPARTMENT (fleece-lined)
FREE PROTECTOR CRASH REPLACEMENT
Battery Compartment: ca. 90mm x 90mm x 460mm
LITESHIELD BACK PROTECTOR
The EVOC LITESHIELD BACK PROTECTOR combines maximum protection against falls and a feather- light, highly effective construction with a great deal of flexibility. At the same time, it is completely impervious to temperature. As is the case for most sport helmet manufacturers, we use an EPS construction, although ours is specifically adapted to back protection requirements by means of a segmented, multi-layer approach. Besides featuring excellent shock-absorbing properties, this protection concept enables fall damage to be identified immediately, so that the protector can be individually replaced. 
AIRO FLEX is an extremely sturdy material that is both permeable and flexible. We use it for our top-quality hip belts to ensure optimum load transfer to the hips, with simultaneous maximum ventilation – for utmost carrying comfort. 
This system combines the essential back proximity for a back protector with maximum back ventilation. The back area is close fitting and features a large, central ventilation channel as well as two rows of "ventilation grids": air mesh-covered EVA foam strips with ventilation holes and a special gabled groove reduce the contact surface on the back, which improves air circulation. The extra-wide, ergonomically shaped hip belt is made from our AIRO FLEX material. In this way, the main load – even in the case of a fully loaded backpack – is transferred to the hips, where it is fixed, while optimum breathability is ensured.
A constant, free flow of air is enabled by means of the vertical air channel. This ensures optimal ventilation even at high exertion levels including a lot of sweat so as to prevent the chilling of the sensitive kidney area.
Carabiner to attach keys
PADDED BATTERY COMPARTMENT
Padded battery compartment
Hip belt pockets
Compartment for optical glasses
Mobile phone compartment
Tool compartment
The 2-STEP-ZIP SYSTEM zipper construction allows you to access your backpack main compartment in two ways: The full opening of the main compartment gives you unrestricted access to the entire contents. The topload version is convenient when you're on the go.
HYDRATION SYSTEM COMPARTMENT
Hydration bladder compartment
Signal whistle
CONTROL DISPLAY COMPARTMENT
Control display compartment
Emergency plan
CHARGER STRAP FIXATION SYSTEM
Attachment strap system for charger
Loop for attaching a bike backlight.
TRENDING //
You may also like: