SUMMER 2021: VANCOUVER
I'm sitting at the foot of Cypress Mountain ski resort with Geoff "Gully" Gulevich and a big grin on my face. Gully has just shown me his home trails and as we are enjoying our cool after-ride beers, he is telling me about an idea that he and his B.C. shred buddy and Red Bull Rampage winner Kurt Sorge have been dabbling with for quite some time now: an expedition to high-alpine trails in Peru.
They have already scouted the "locations" a while back, however, in order to tackle an expedition at such an altitude and in such a remote region, you need experts on the ground who know about the local conditions and can handle the logistics. With Nic and Bill of Haku Expeditions, they finally have the right partners to help turn this vision into a reality.
PERU, I'M GOING TO PERU!
What I hadn't even dared to dream of at the time: I was to accompany the two pros to Peru! Because, as fate would have it, the project fit perfectly into the revision cycle for the STAGE and EXPLORER PRO backpack series, it constituted the perfect opportunity for a final endurance test.
What I also didn't know at the time: we were not only going to be riding high alpine trails, incredibly challenging big mountain freeriding was also on the agenda. Gully and Kurt were going to take on the highest and steepest rubble gullies you can imagine! Once we arrive in Peru, we all meet up at Haku Expeditions in Cusco.
The old capital is situated at an altitude of 3,416 meters in the Andes highlands and used to be the seat of power of the Inca for centuries. Luckily, we have a little time to acclimatize there, before we set off to the first shooting location in the mountains.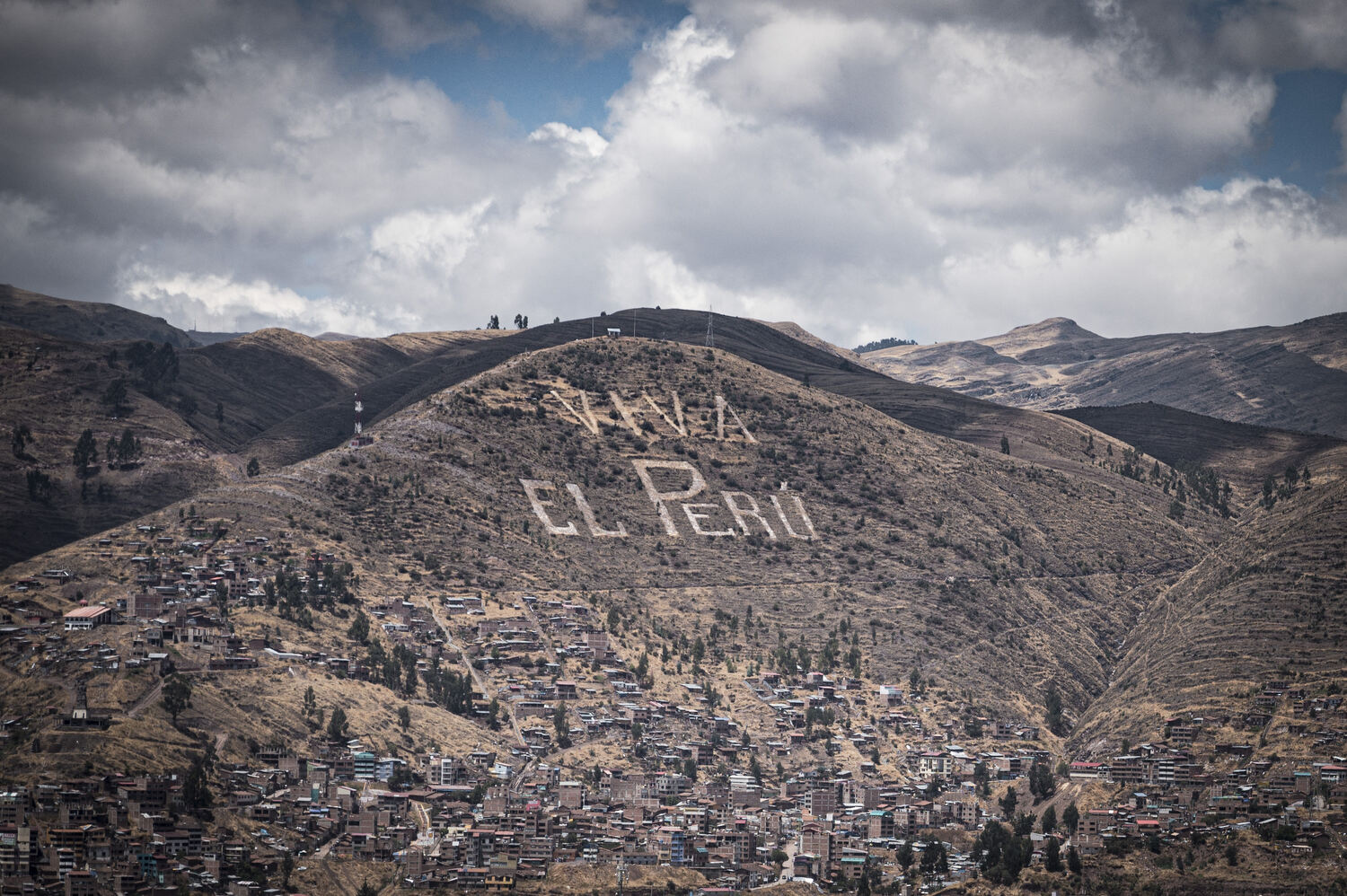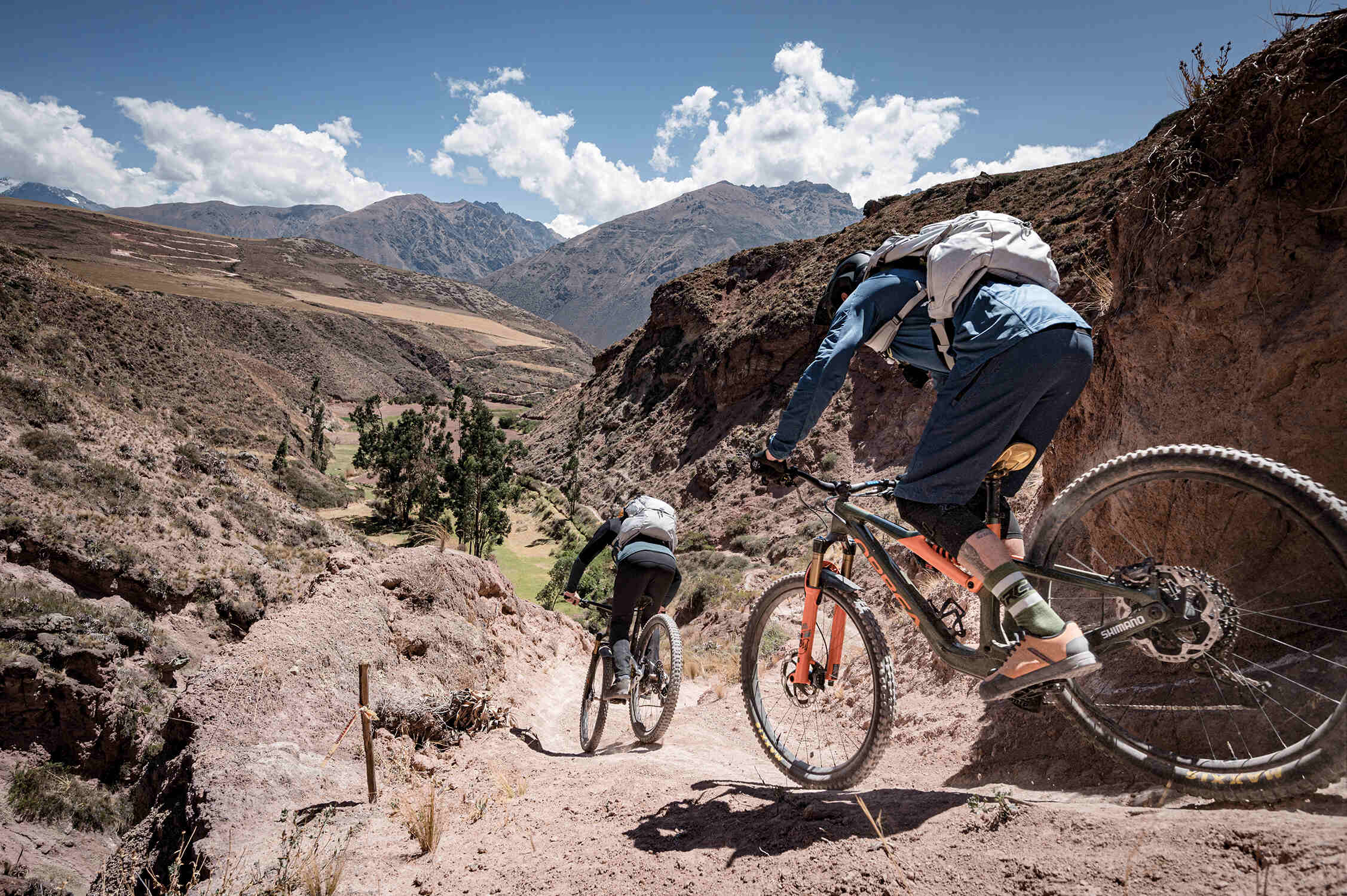 THE CREW
Our crew consists of Gully and Kurt, Bill and Nic of Haku Expeditions, our filmer Matt Brooks, drone pilot "Popin" Juan Alfonso Reece, our photographer Manfred Stromberg and my humble self. There is also a group of local sherpas to support us on this expedition. My first lesson: it is absolutely crucial to stay hydrated at this altitude. Beer, however, hardly qualifies!
Our first riding location with a camp is at the foot of the Ausangate glacier, Ausangate being the fifth highest mountain in Peru, just southeast of Cusco. The nights in the tent are unbelievably cold and our bikes are covered in a thick layer of frost in the mornings. My second lesson: at altitudes between 4,000 and 5,000 meters, you not only run out of air much faster when riding your bike, it is also virtually impossible to sleep.
"Sé Hombre"
"Come on, let's go!"
Our sherpa Juan coins a sentence on the first morning, which not only becomes our creed for the entire trip, but also ends up on Geoff's leg in the form of a tattoo: "Sé Hombre!" - "Be a man!". In a less literal sense, for us, this sentence comes to express affirmation and motivation, as well as the bond among the entire expedition team. So no matter if someone struggles with the cold or the altitude or any other type of difficulty, "Sé Hombre" becomes synonymous for "Come on, let's go!"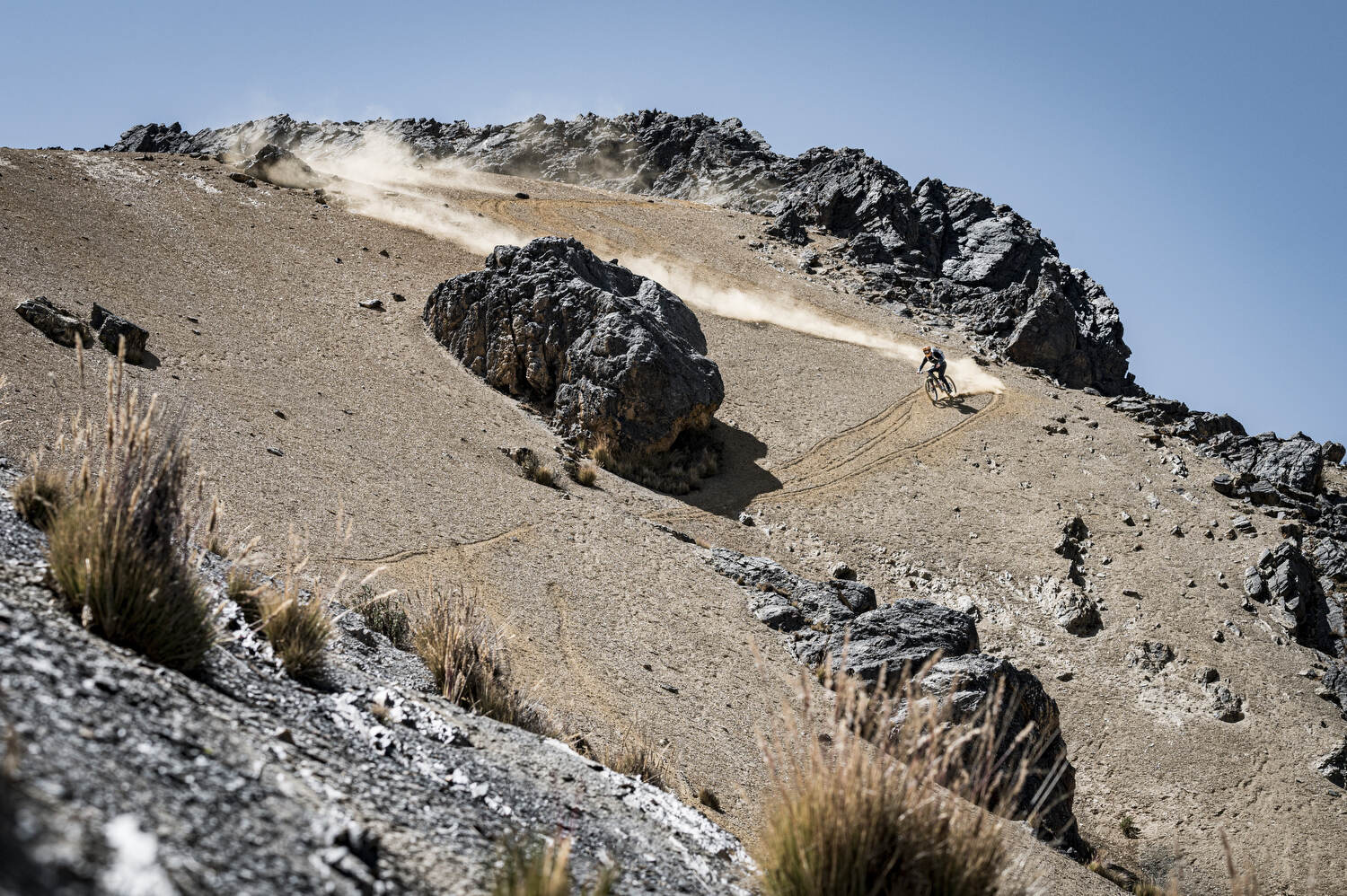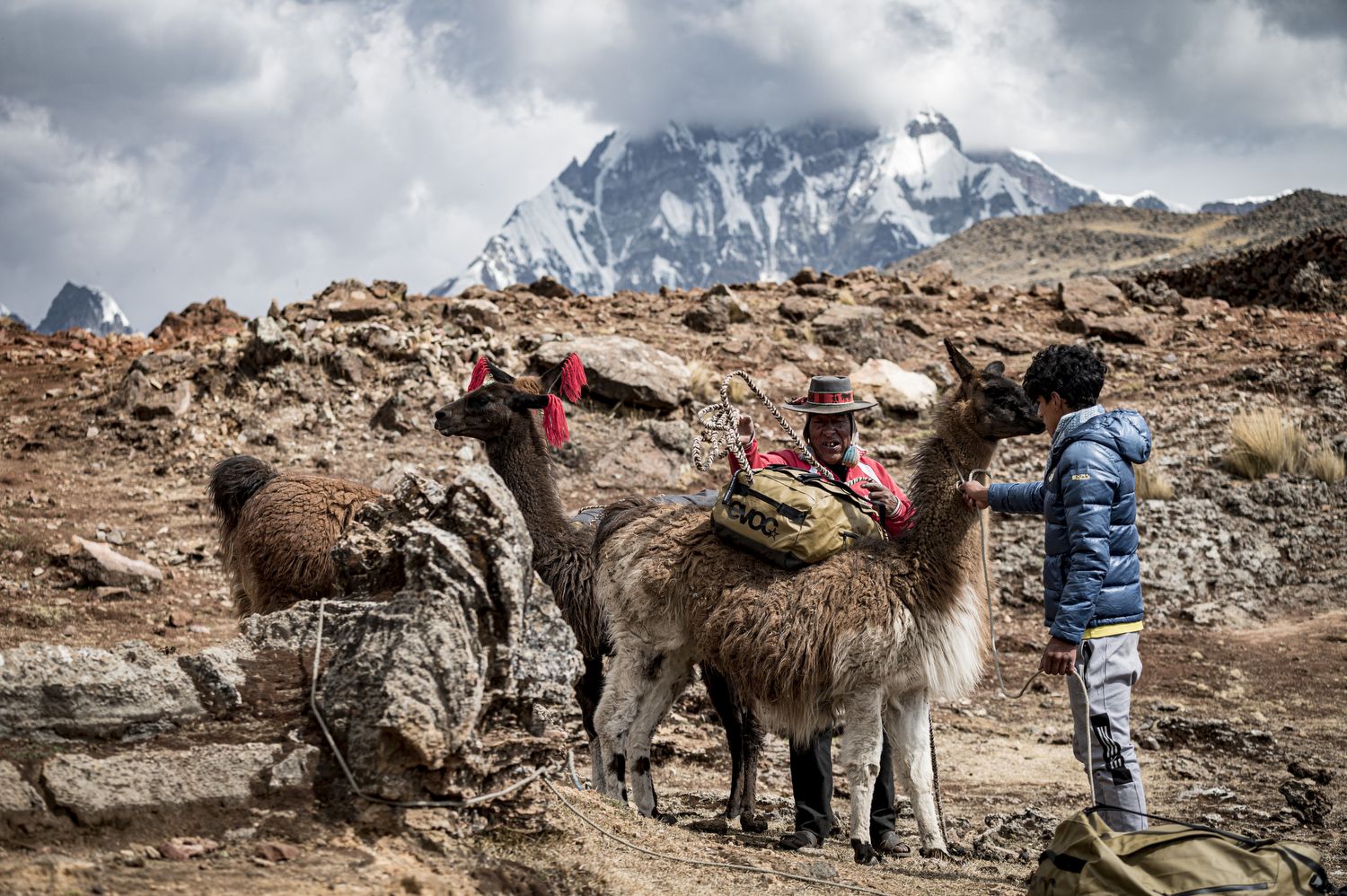 AT THE FOOT OF THE GLACIER
We stay at this camp for two nights and get the chance to ride the first chutes and take the first shots. This gives us somewhat of a feel for the ground and steepness of the terrain. The fact that these spots lie on the edge of the ancient Inca trail leading from Cusco through the Andes to the legendary ruin city of Machu Picchu, makes the experience even more unique for us.
Also, this is the first time that it is not only the altitude taking our breath away. The starlit night is so clear and the stars in the milky way seem so close that you feel you can almost pluck them from the sky. We feel an overwhelming sense of humility - what an unbelievable sight!
What is just as impressive, is how soon the sun sets and how quickly it gets bitterly cold. In spite of a camp fire and delicious beer, come twilight, you wish you were in your sleeping bag, and so we lie in our tents at around half past eight each night. Often we are awakened in the middle of the night by the thin air, however. This is especially challenging in our camps at Rainbow Mountain on 5,200 meters and in Red Valley located on an altitude of 4,000 meters. You wake up with a feeling of suffocating and you need to take a few really deep breaths before you can even think of getting back to sleep.
Another constant companion at this altitude: headaches. Kurt, Geoff and Bill convince me to try an old "household remedy" of the Andes which apparently helps with virtually anything: chewing coca leaves. And what do you know: it cures my aching head - but gives me a completely numb mouth instead.
RAINBOW MOUNTAIN
SIMPLY WOW! The different types of rock are layered in such a way that the mountain ridge looks like a rainbow made of stone. Naturally this gem is under nature conservation - this view makes it all the nicer when we ride some of the best freeride gullies just on the opposite mountain.
The soft ground and the fine rubble under our tires feel like powder under a snowboard. And that is just how you have to ride it! Always let the bike drift on both wheels and slide down the slope diagonally, when you want to slow down. At first this feels quite unfamiliar, but once you've got the hang of it, it's great fun!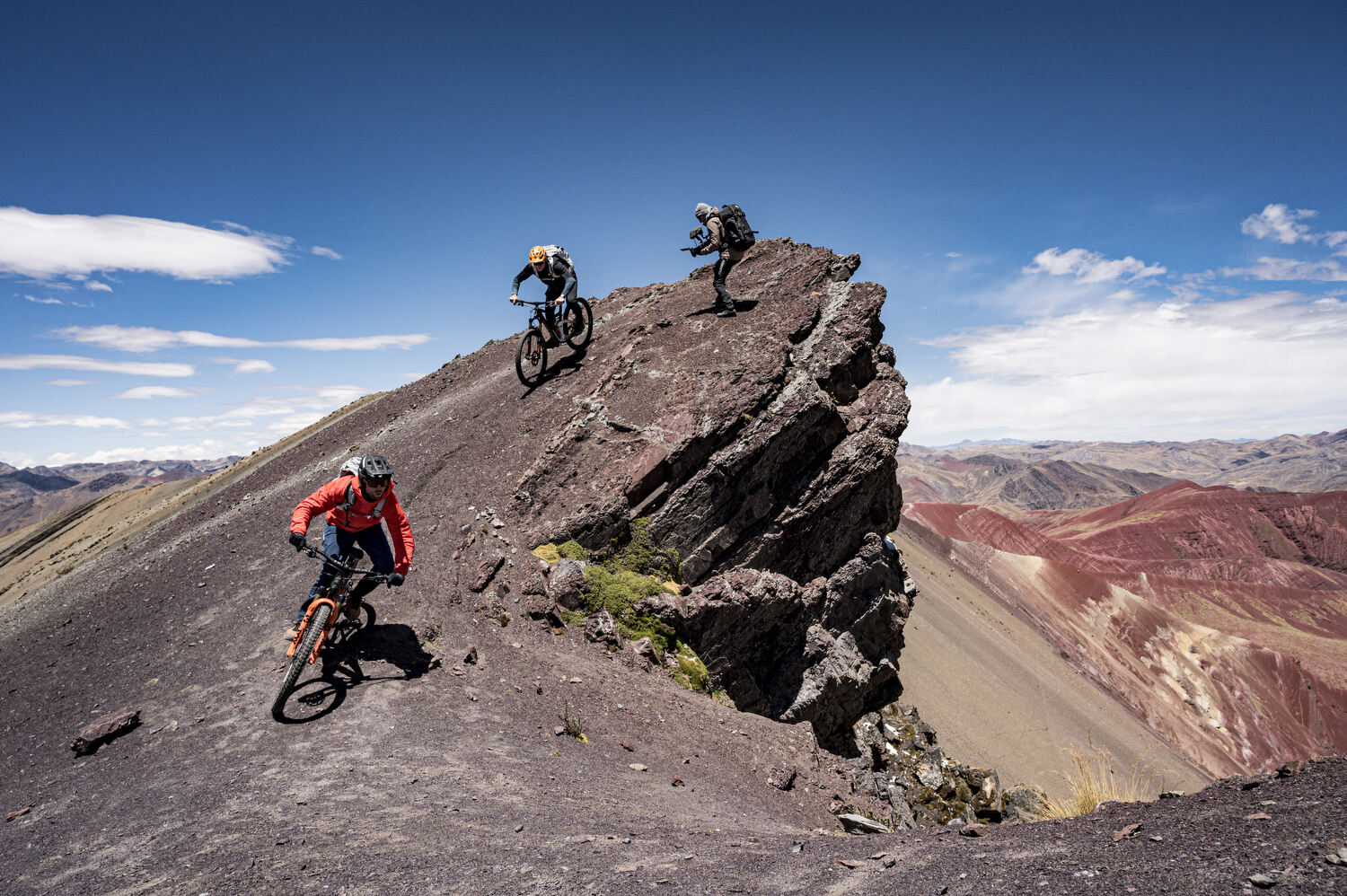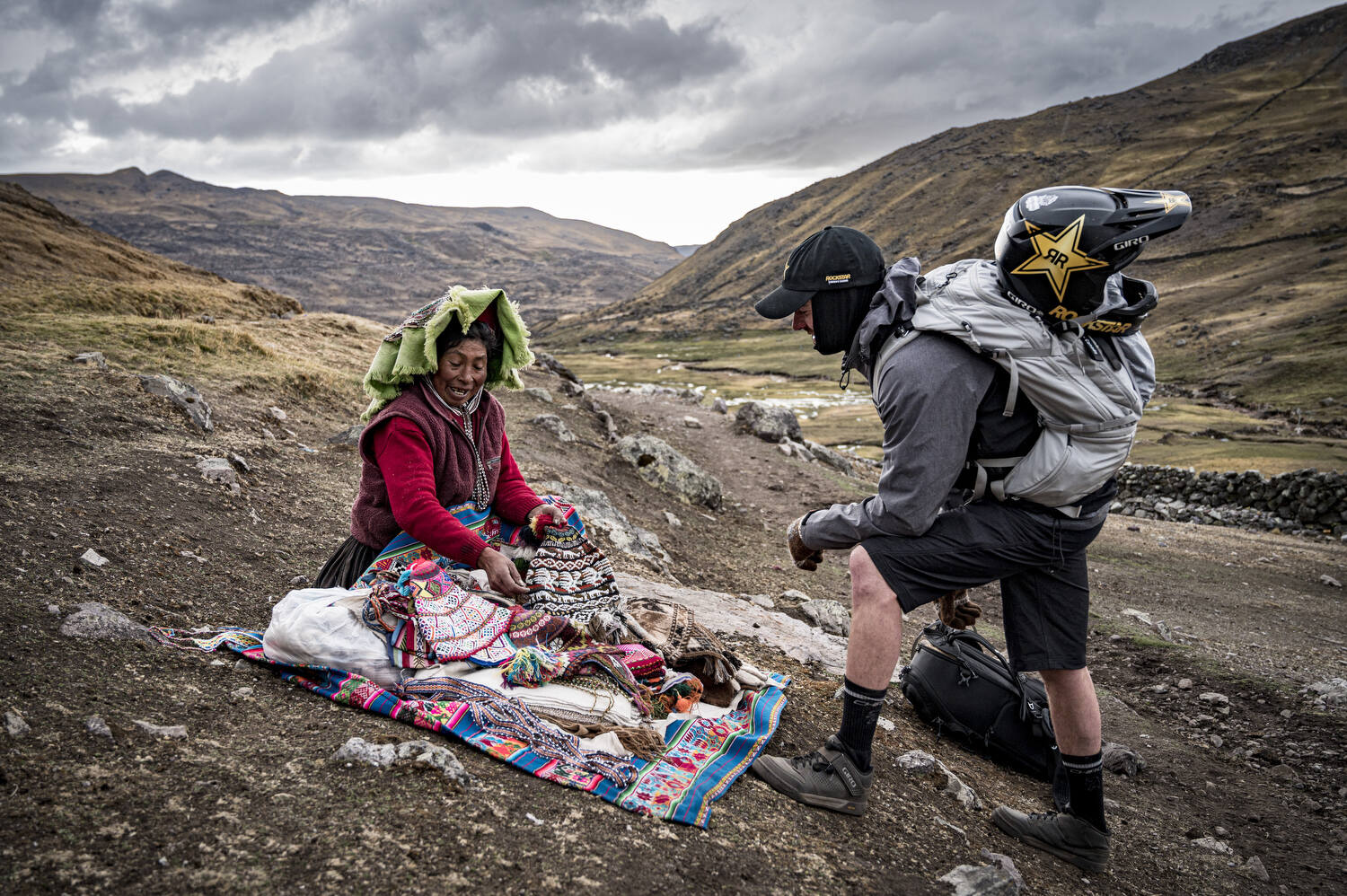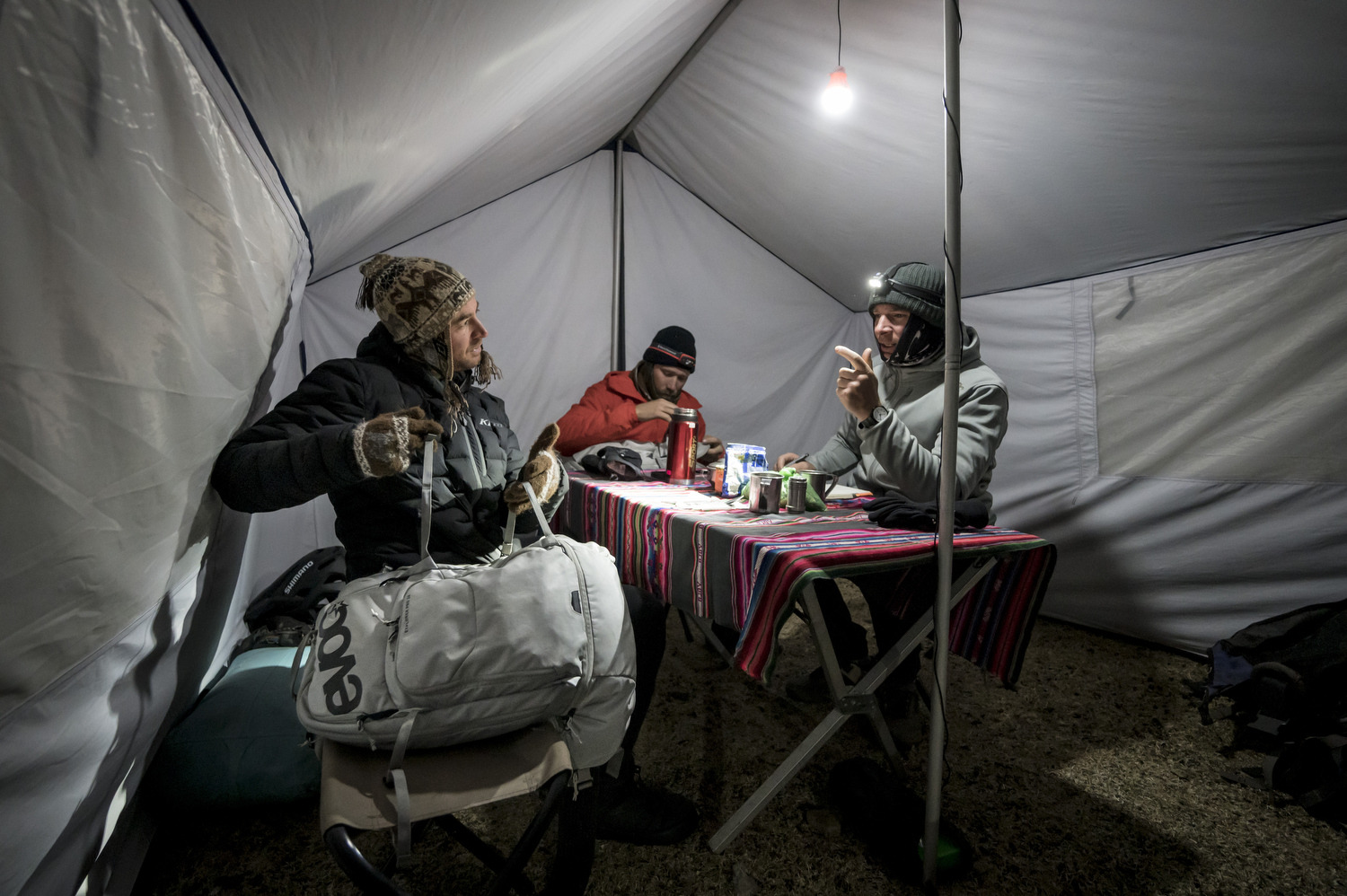 BACK TO WORK
In the evening, Gully, Kurt and I are sitting in the kitchen tent with headlamps, collecting our feedback on the backpack prototypes. We specifically focus on the back sections of the EXPLORER PRO and STAGE. After several days of extensive testing, we go through every single detail. Even on the most challenging trails, it is important that the backpacks remain close to the body and sit firmly and comfortably, also the load needs to be distributed evenly to reduce the strain and avoid oscillation. Simultaneously, a well-performing ventilation system is essential, so the rider doesn't overheat. And who better to judge all these criteria than the two pros, Gully and Kurt, who have taken the backpacks to their limits for days on the Peruvian mountain ridges. And even though it isn't all that easy to take down every impression, idea and suggestion after riding trails for ten hours, this feedback is extremely valuable for our development.
I only start processing all the experiences once I'm on the plane on my way back to Europe. The colours, the vastness of the landscape, the trail riding - everything on this expedition is very hard to put in words. So I spend the 30-hour return journey in a kind of trance. And, even in his sleep, Manfred, who is sitting to my right, still has the biggest grin on his face…