BOAT & BIKE IN THE AEGEAN SEA
---
An ear-shattering drone suddenly tears me from my slumbers. After a moment of complete disorientation, I get to grips with reality again: I'm on a sailboat in the Aegean Sea! In a berth apparently situated directly adjacent to the ships engine.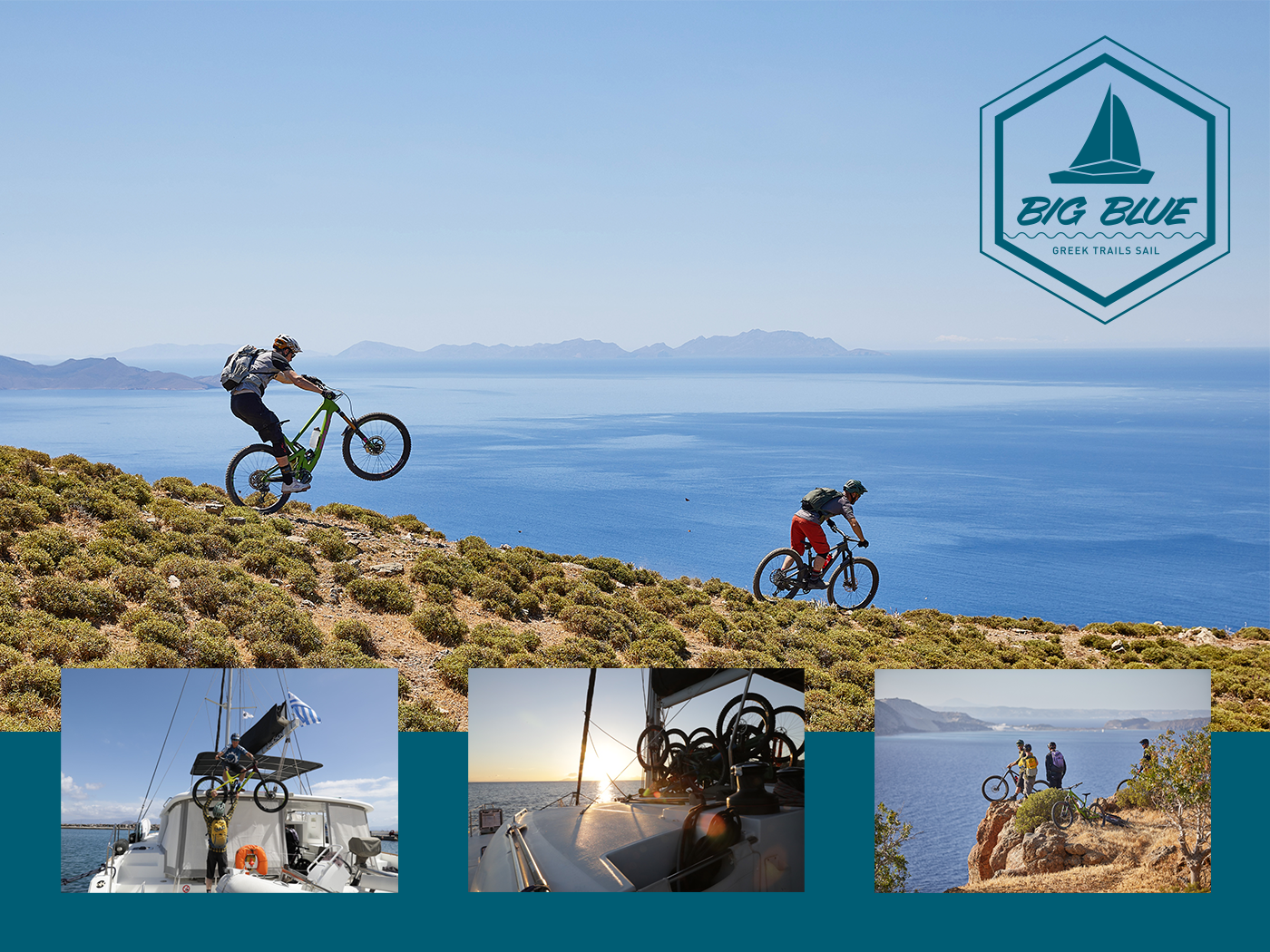 It's May 2021 and on the previous day we arrived here on the first flight that went from Munich to Kos in a long time. The "Cinzia", shiny white, awaits us and after a warm welcome by our Greek bike guide friends Tasos, George and Nicolas as well as Captain Christos, we move into our floating quarters. In normal times this would be peak season, but aside from a few boatmen, the marina is deserted.
First we head for Nisyros, a small volcanic island south of Kos. We seem to be the only ship on the sea! There was probably more traffic here during the Odyssey. In the radiant morning sunlight, we pedal up a few metres of altitude towards the chapel on the peak.
This is where we are first able to really soak in the heavenly panorama! Specked with innumerable little islands, the deep blue ocean expands to all directions. Our first descent to the village of Nikia on the edge of the crater, however, turns out to be somewhat of a challenge. On the edge of controllability, we jolt down the uneven and exposed steps underneath the chapel. Not absolutely recommended!
So, our adrenaline levels are pretty high once we reach the village square and realize we are still all in one piece.

After a short cruise through the derelict alleys, we continue our descent towards the crater and are rewarded with excellent mountainbike flow à la Greece! The sun is shining and the crickets are chirping in the olive groves while we ride our bikes downhill along drystone walls that are thousands of years old… Further down, the terrain gets steeper again and also more technical.
The rocks and the drops on the trail get bigger and the corners get tighter until, finally, the trail ends in a dried up streambed where it becomes unrideable. Nevertheless, we simply stumble the last few metres into the crater plane, because where else can you ride your bike right into the bottom of a volcano?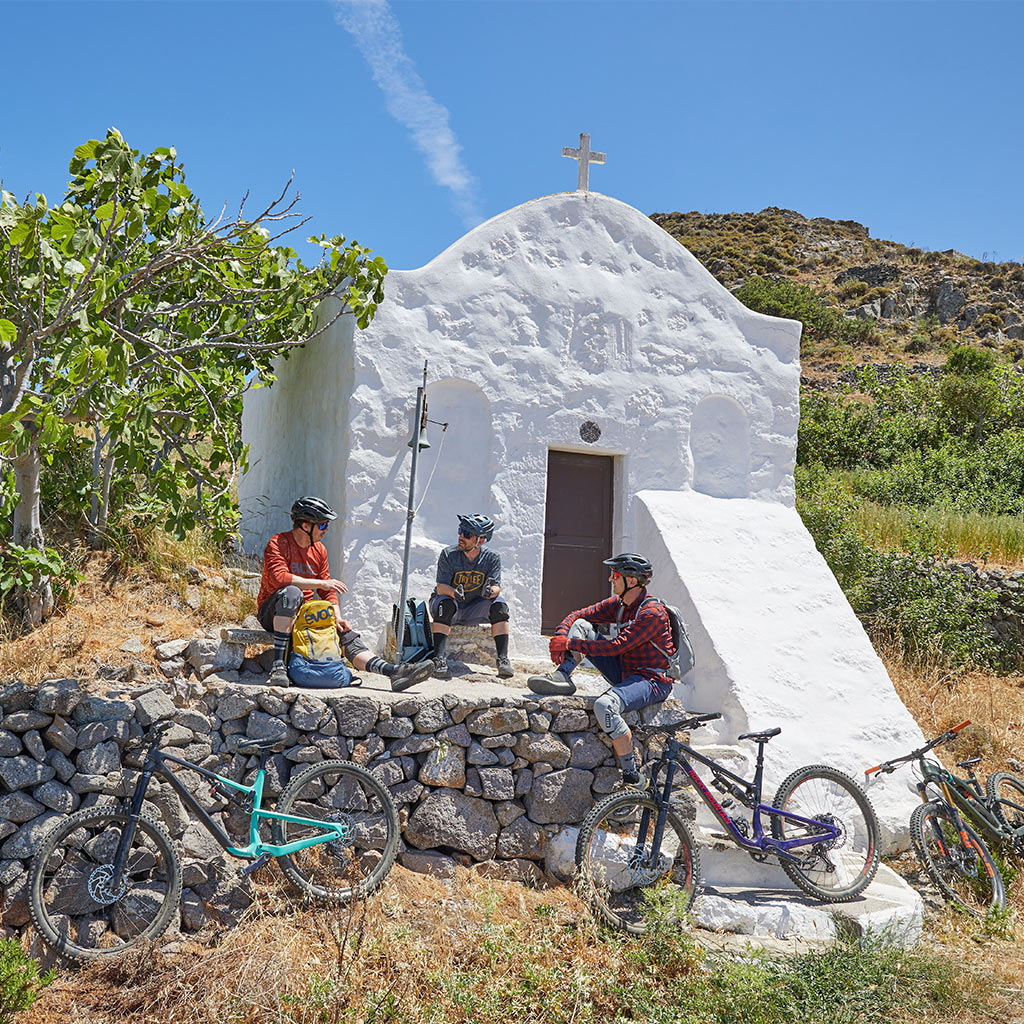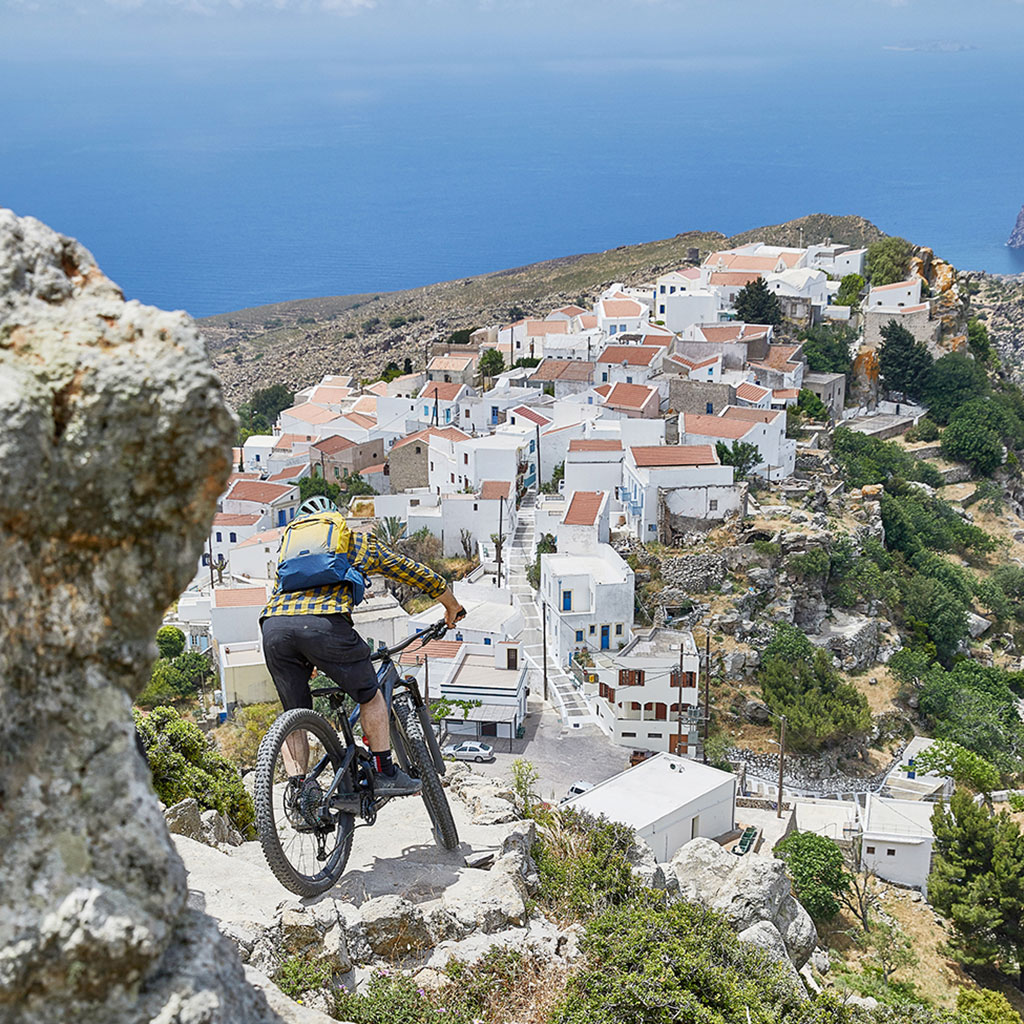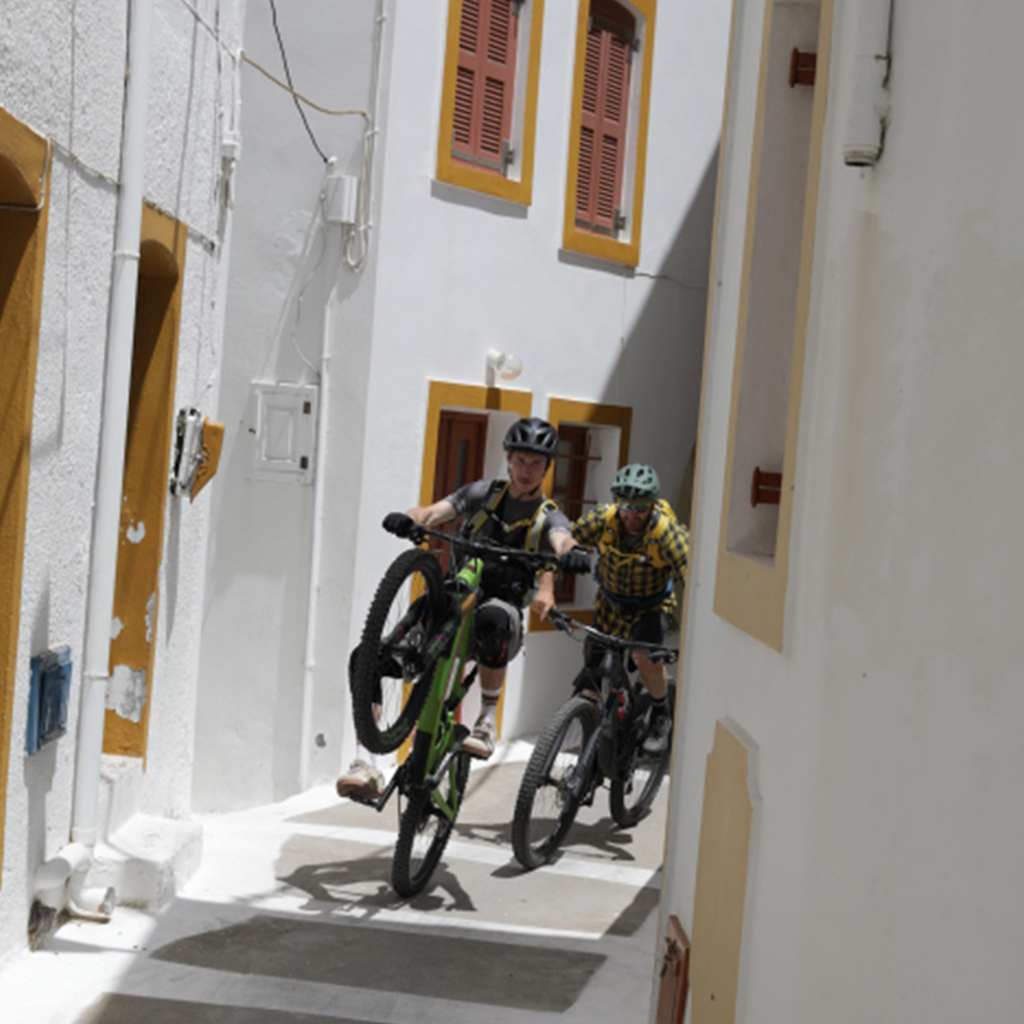 KOS
On the next day our agenda point is Kos. For years, one of our guides, George, has been working intensively on the development of an ever expanding trail network here. The shuttle service enables us to fully focus on the descents and even the first of the trails that George and his crew have built turns out to be a real gem. With a breath-taking view, it smoothly takes us up and down along the ridge of a hill.
To our left, the landscape drops off steeply towards the sea while the hillside to our right gently falls into the wooded centre of the island. A beautiful single trail with small jumps and berms meandering through wonderfully scented herb fields in wide bends.
Later: the trails through the forest are also designed with a lot of love for detail and so smartly that shuttles aren't that much of a necessity at all and we can work our way along the entire flank of the mountain throughout the day. There is another pleasant surprise in store for us on our crossing to Leros: a stop for a cool dip in the crystal clear turquoise waters of a lonely bay!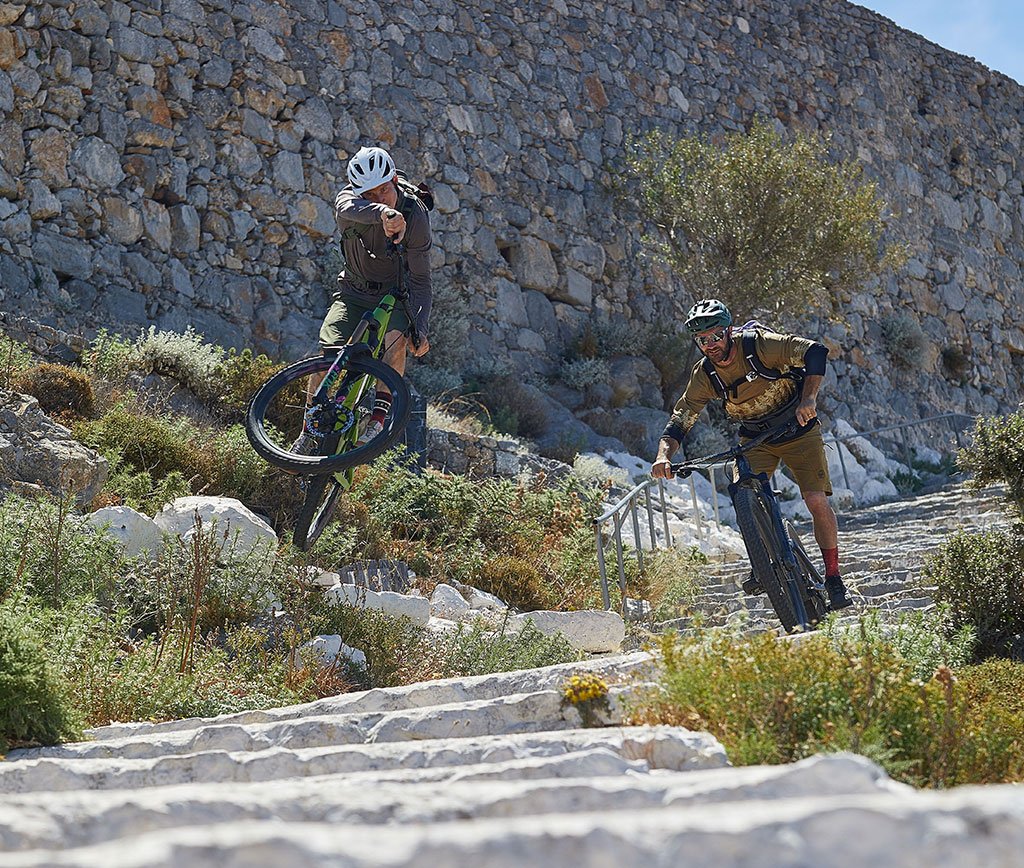 Leros is our next big highlight. And this is mainly thanks to Jorgos, who, with his bald head and burly stature looks nothing like your typical mountainbiker, but who, as it quickly turns out, is a real legend in the local mountainbiking community. Everything that has anything to do with biking on this island has been initiated by him and he also brought a whole group of young riders with him! Ten youths with quite imaginative gear greet us and with Jorgos at the head of our group, we start pedalling up to the castle.
This is where the "Castle Steps" begin, a section of over a kilometre with long stairs which Jorgos has picked as our first descent. "Very flowy!", he shouts to us, as he begins charging down the stairs at break-neck speed. Happily we bump on down behind him, trying to fathom the flow of these "Flow Steps"… We meet up at the bottom, pretty shaken up, but with broad grins on our faces. These grins grow even wider – and we stare in disbelief - when Jorgos starts loading our bikes onto an old dump truck.
Two guys from his group are assigned to hold on to the bikes on the truck bed. Shuttle à la Leros! Half an hour later, riders and bikes safely arrive at the prominent starting point of our first "real" trail on the island. Directly next to the gigantic concrete ears, which served as audio monitoring devices in the 2nd World War, begin fantastic trails that Jorgos and his friends have elaborately and carefully modelled into the coastal landscape. After a few downhill rides, we are surprised yet again by another squad of the bike club who have prepared a tasty barbecue in a charming little bathing bay. Steaks, pita bread, tzatziki and a cool beer on the beach.
This is everything we could hope for! Right afterwards, Jorgos also shows us an impressive cross country trail right around the corner. After a short, steep climb onto a forested hill, we find a trail that winds down the side of the hill in countless bends. A track that goes on for kilometres on which you can have serious mountainbike races without the need for a lot of altitude. Each descent is designed in such a way that the speed you gather there will almost take you right up the next climb and only a little pedalling is required to maintain flow. There is also a training track for beginners in the forest. There is simply nothing more you could wish for!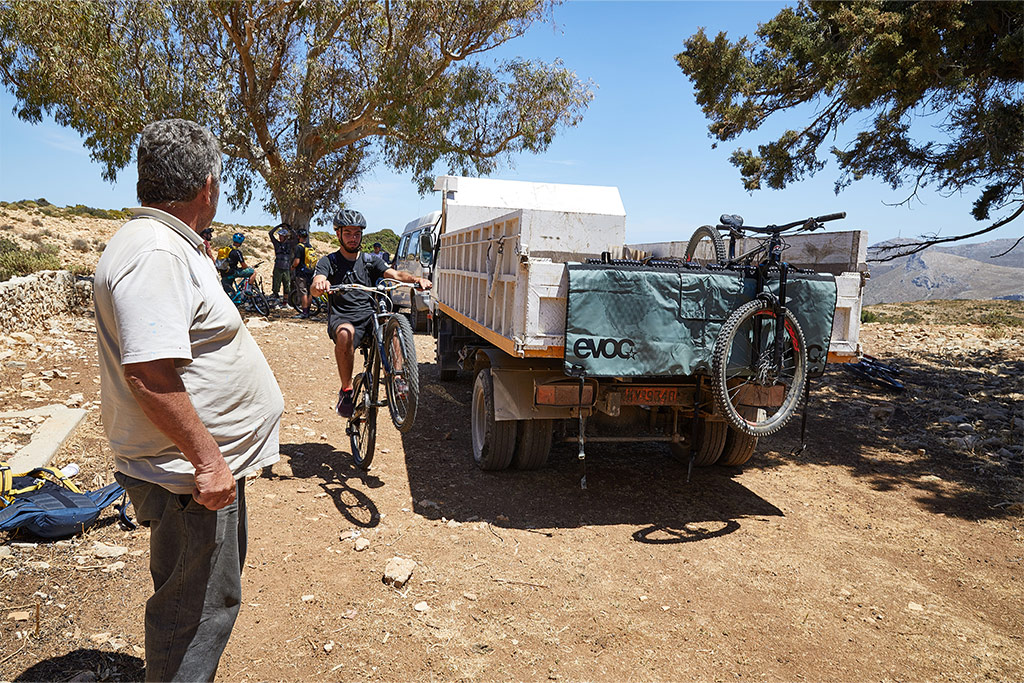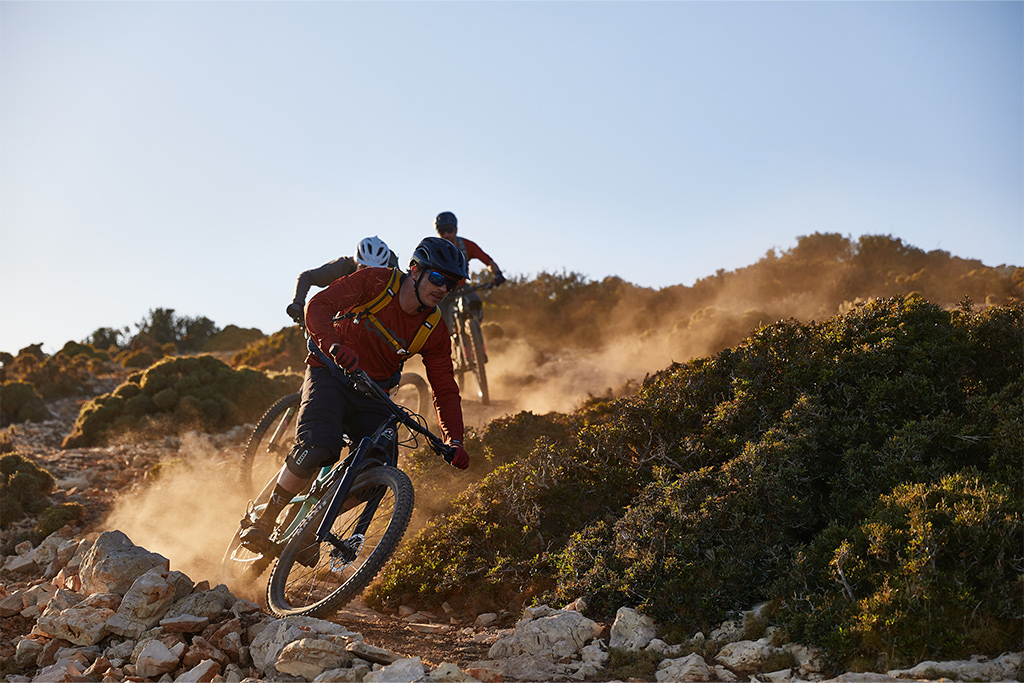 It is hard for us to depart from this beautiful island with its blooming mountainbike culture, but we have the islands of Lipsi and Patmos to look forward to and both are awaiting us with wonderful trails and almost familiarly spectacular views.
LIPSI & PATMOS
Patmos is somewhat of a secret Hollywood hotspot and on Lipsi our captain takes us to a breath-takingly beautiful turquoise lagoon. What makes it especially breath-taking is its access, as you can only reach it via a short dive through a rock wall. And our return to the boat is just as spectacular: instead of diving back, we decide to climb up the rock wall and dive off the cliff on the opposite side, splashing down right next to our boat

On the next morning, on the return to Kos is when disaster almost strikes. As we are sitting on deck enjoying our morning coffee, waves start hitting our vessel. The ship starts rolling vehemently within seconds and our bikes which we have meticulously secured on the upper deck begin to move. Three of us jump onto the dissolving mountain of bikes, but we barely manage to hold on to them. Only when the others rush to our aid, do we gradually manage to get the situation under control. In a state of shock we continue our voyage while our Greek friends insist they will have thought up a bike carrying system till our return.
Because this is a trip that all of us want to go on again!
All the impressions, hospitality and mountainbike enthusiasm that we were privileged to experience within this short week! And in addition: that sense of travelling to a new and even more spectacular place by boat each day… Thank you George for making this trip possible and thank you Christos, Tasos, George and Nico for the excellent support on the boat and all the islands!