GEORGIA // The rough diamond in the Southern Caucasus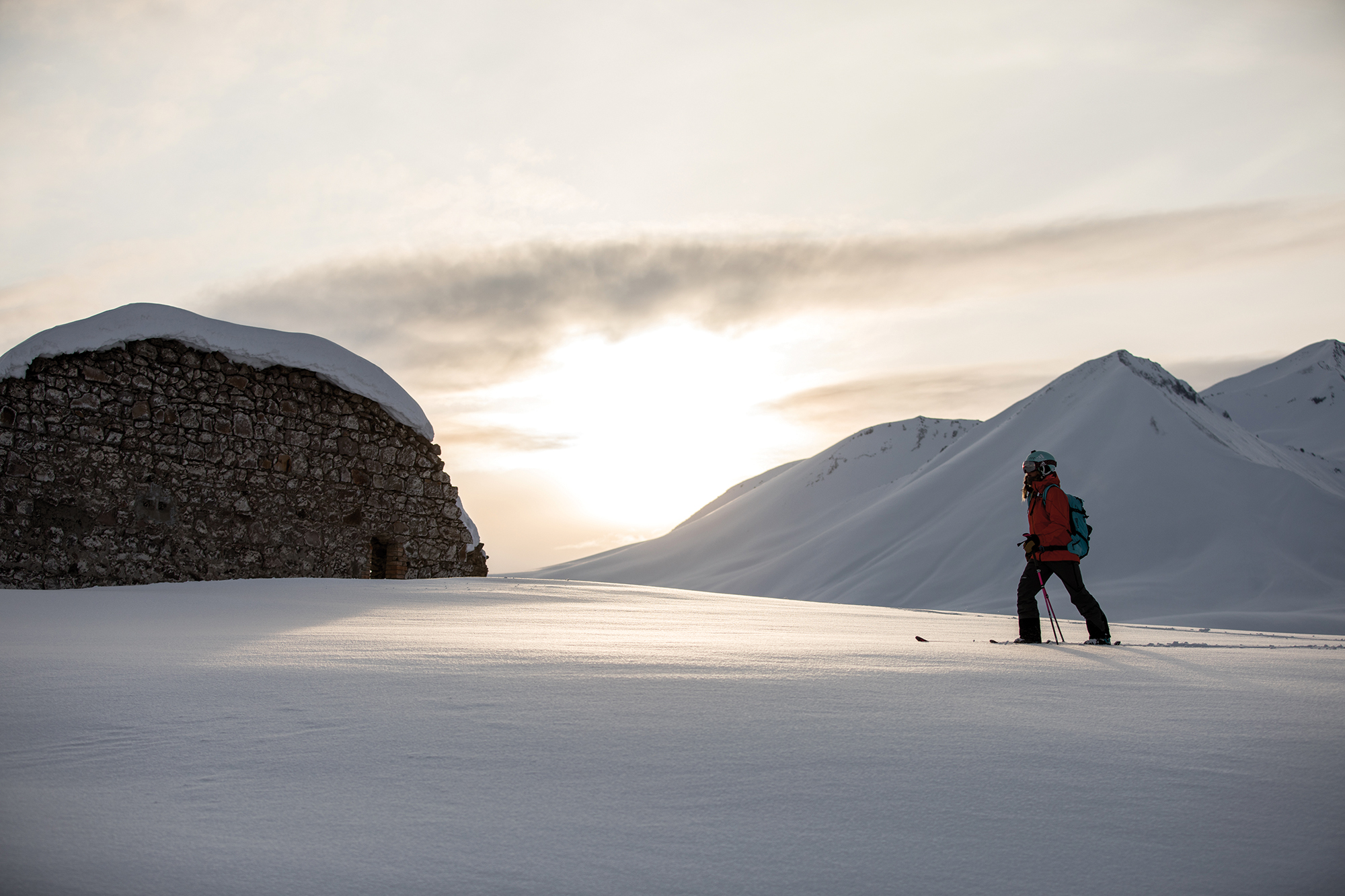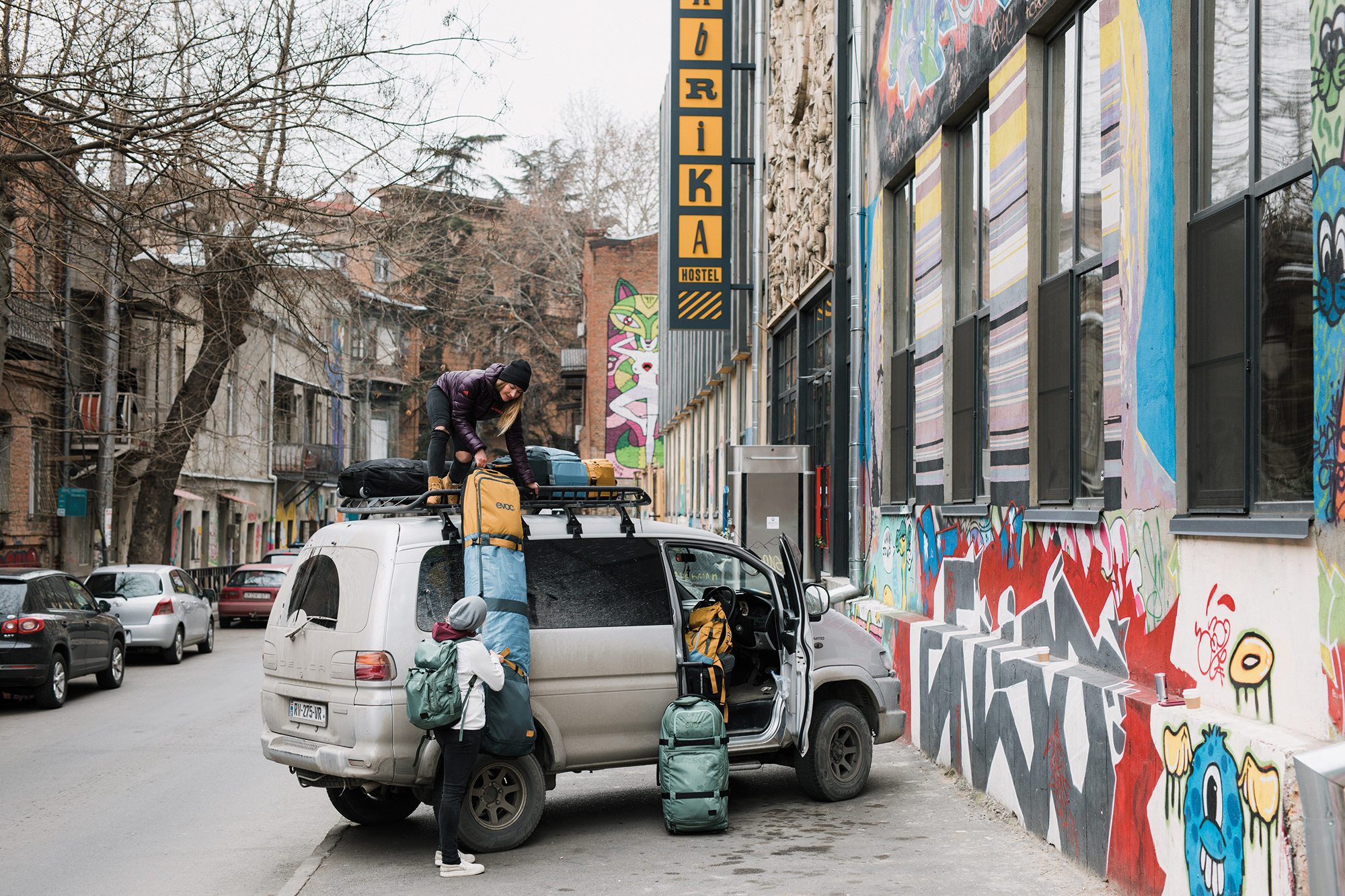 It has been a long time since we set off on a ski trip together that would not only satisfy us on the skiing front, but also still our hunger for faraway places and for discovering new travel destinations. We decided on Georgia, a country in the Caucasus that is about as big as Bavaria.
Our journey started in Munich, with a stopover in Istanbul, and our first stop was in Tbilisi, the capital of Georgia. There we picked up our hire car, which looked more like an amphibious vehicle - very sensible, as it turned out. In the middle of the night, after we had expended a lot of effort stowing 6 ski bags and various bags full of camera equipment on board, I took up position behind the wheel and we meandered through the streets of the capital and we finally hit upon the Georgian Military Highway that would take us to Stepanzminda, close to the Russian border. The sat-nav reported driving time of 2 1/2 hours - which soon proved to be hopelessly unrealistic.
The roads are by no means the motorways we're used to; it was snowing like crazy; and the countless numbers of trucks heading for Russia and Armenia created seemingly endless convoys and hold-ups. The 2 1/2 hours had turned into 5 by the time we reached a breathtakingly attractive boutique hotel at the foot of Mount Kasbek. Created with a loving eye for a detail, and with a breath-taking view of the Kasbek glacier and the Church of the Holy Trinity beneath it, this hideaway is a real jewel - and not at all the type of hotel we were expecting to find here. This was the starting point for our daily tours that took us high up into the vastness of the Caucasus. In addition to some very demanding ski tours and descents, we also did some ski tour variants that would be suitable for everyone.
Whether the many ski tours that started directly from the Georgian Military Highway; skirting round the edges of Gudauri, the best-known ski region, packed with holidaymakers; or a ski tour on the solitary Mount Deda Enas - each day was different again and left lasting impressions. Of course, you are never entirely on your own and cut off from civilisation in Georgia, but nevertheless you get a real sense of the vastness of the Caucasus. It is particularly awesome at the foot of Mount Kasbek, where Church of the Holy Trinity is located. Enthroned above Stepanzminda, one of the last settlements before the Russian border, it radiates a surreal, almost mystical aura. Sandra and I climbed up to the church. Rising behind us was the awesome Kasbek glacier, the mountain to which legend says Prometheus was chained - and a shiver went down our backs. Not of fear - but due to the awesomeness of this place with its special atmosphere: definitely one of those moments that you will never forget for as long as you live.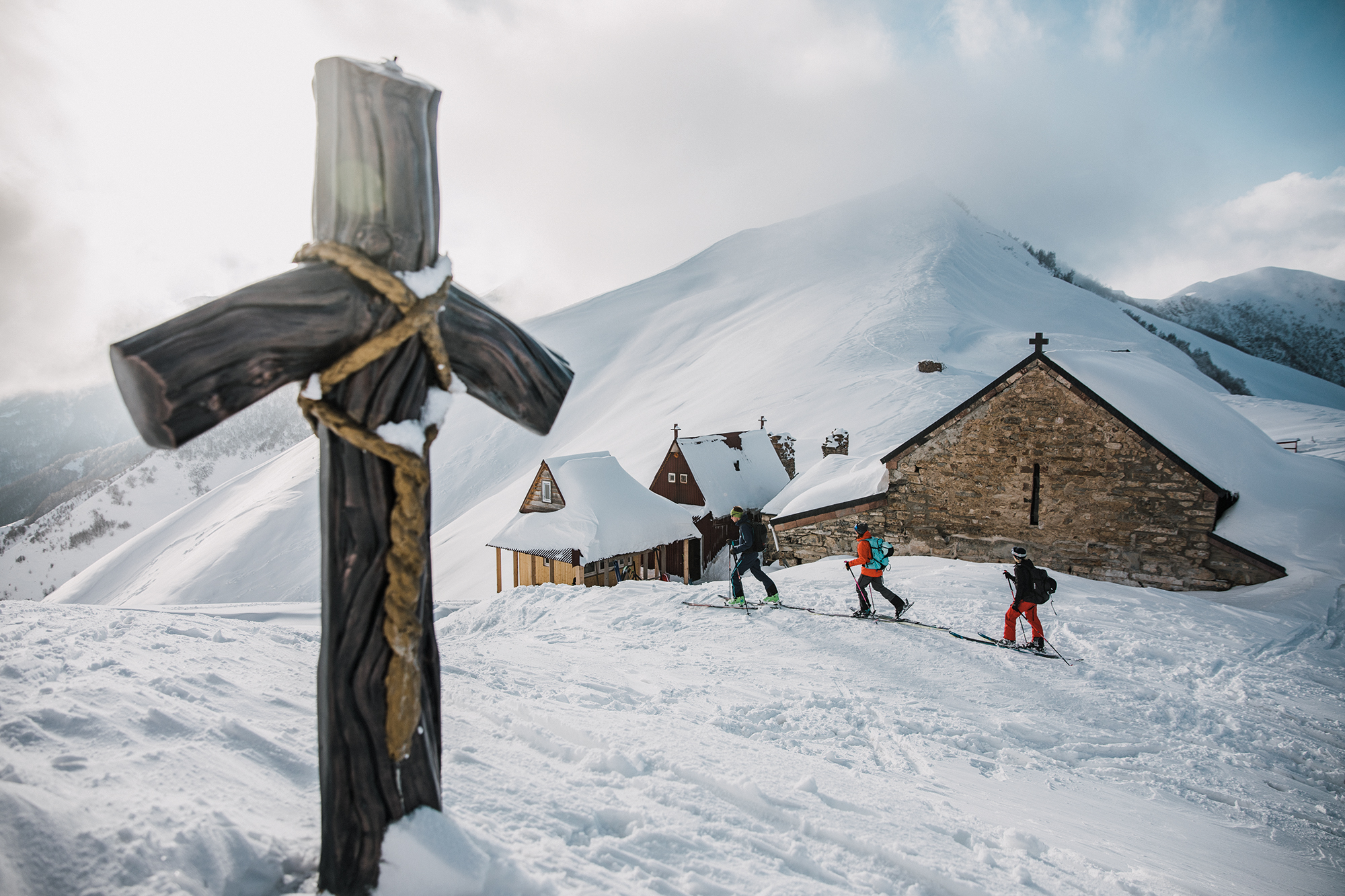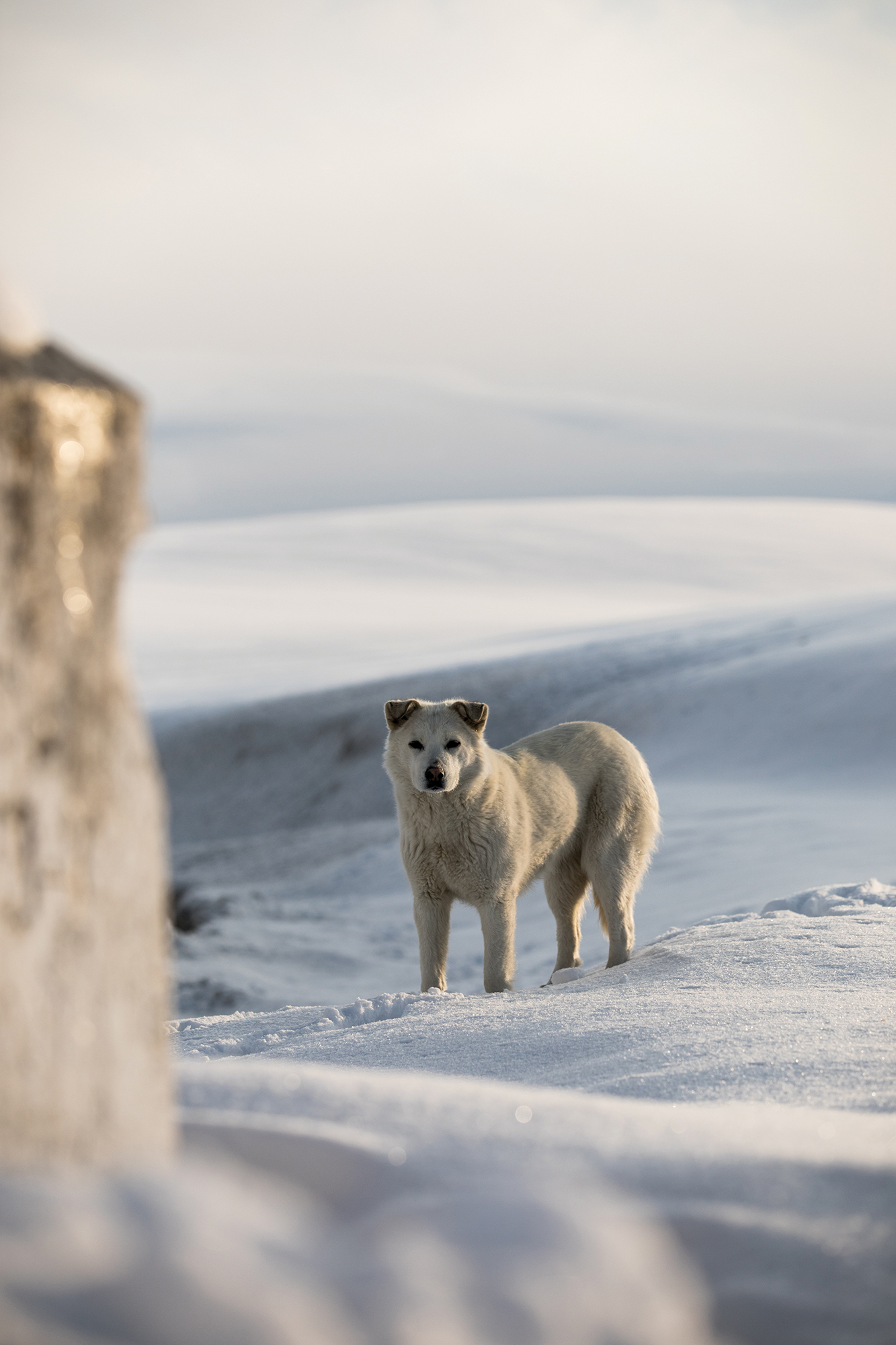 The next day was equally impressive. We set off for the Lomisi Monastery. The weather was pretty bad, and without our guide Ludwig and his GPS, we would have got totally lost. But Ludwig confidently led us onwards and upwards in fog, falling snow and with zero visibility. Frozen to the core, we arrived on the ridge at a tiny monastery. As if they had sensed us coming, the door opened immediately and 3 monks in long black habits and with long hair and beards waved us in with a grin. It felt like 40 degrees inside - and after a glass of Chacha, the traditional schnapps in these parts, we had thawed out again in record time. We were given freshly-baked bread, biscuits and another Chacha or two. Time flew by as we communicated, with the liberal use of hands and feet, with our hosts. Before we could leave their domain, again we had to go into the chapel itself, in order to comply with a custom unique to that location. Each one of us in turn had a thirty-kilo iron chain hung around our necks, and we were told to walk around the altar and think about our sins. Once all the sins were recalled, the heavy weight of the iron chain could be removed, so that the bearer felt "enlightenment" in many of its forms. Relieved of our sins and feeling buoyant, we could now make our way home. At that very moment, appropriately and illuminatingly, the sun came out as well, opening up a view all the way into Russia. With a feeling of freedom, we set off and enjoyed a long ski down in the golden light of the evening sun and with a (ruck)sack full of wonderful memories.
In addition to its breath-taking landscape of huge mountain ranges stretching all the way to Russia, Georgia is also enchanting for its excellent culture and friendly inhabitants. No matter where we two girls went, we were always shown sincere and staggering hospitality and spoiled with tasty dishes. Something not many people know about that is simply outstanding: Georgian red wine! Having made wines for some eight thousand years already, the small republic in the Caucasus counts as one of the cradles of viticulture. This meant, at the end of a tiring day of touring and skiing, we could relax and regenerate with a glass of wine. In addition to its almost limitless skiing options, Georgia's capital city is also really worth visiting. We rounded off our trip with a couple of days of culture in Tbilisi, moving into the very hip "Fabrika" hostel, a former Soviet sewing factory. Tradition and the modern age come together here in the most wonderful way, creating an exciting atmosphere that can be sensed elsewhere throughout the city. At times, we could almost have sworn we were strolling round Amsterdam or Berlin, the cafés, hostels, restaurants and bars are so hip. The whole team was carried away by the pulsating nightlife there - and so our ski trip came to a fitting end as we partied through the night before starting the journey home to Germany.